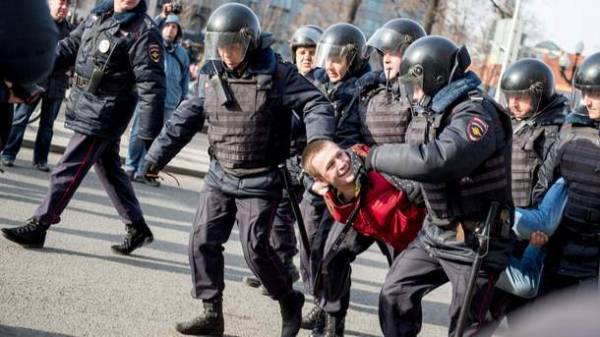 Russian President Vladimir Putin during a meeting with German Chancellor Angela Merkel in Sochi, spoke about the "liberal" Russian police and compared it with European colleagues, reported lenta.ru with reference to Interfax.
Asked by journalists from Europe, as he assesses the actions of Russian security forces against activists, Putin said that they do their work "cool and liberal".
"Russian law enforcement agencies behave much more restrained and liberal than their counterparts in some European countries, where to disperse the demonstrators used tear gas and batons," – said the Russian leader. – "We have, thank God, it was not necessary".
He also noted that the police does not enter the framework of the law, maintaining law and order during mass rallies.
"And will operate so on, keeping order, discipline, but also the right of all citizens to Express their point of view, but within the law", – said Putin.
As it became known, on may 1, on the Nevsky Prospekt in St. Petersburg (Russia) detained 10 LGBT activists. The aim of the action was an expression of solidarity with gays who are persecuted in Chechnya.
Also on March 26, more than 30 thousand people took part in the anti-corruption actions across Russia, excluding Moscow and St. Petersburg. In Moscow, under the informal data, the share reached to 30 thousand people, according to police – 8 thousand, in St. Petersburg – from 5 to 10 thousand.
The number of people arrested at rallies in Moscow, according to the revised data, has reached more than a thousand people. Among those detained were minors.
Comments
comments