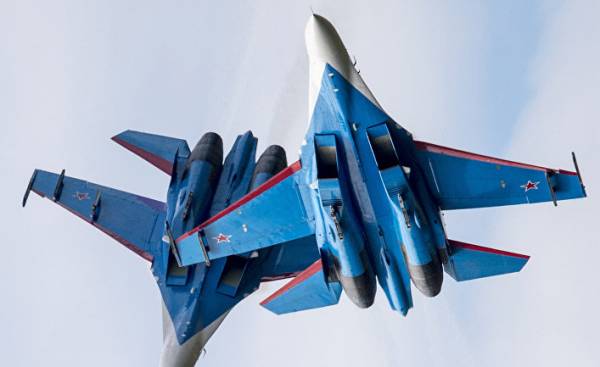 U.S. air force faced problems in the acquisition of aircraft of a potential enemy to train their crews actions against enemy aircraft, and here they come to the aid of private contractors.
In some cases they are able to supply the armed forces with a remarkable machine that is extremely accurate copy of enemy aircraft. Did the company Air USA, managed to buy two twin training aircraft MiG-29UB.
"The MiG-29 Air USA imported directly from one of the former Soviet Republic. All aircraft are equipped with original features and equipment of the Soviet production, reports the company on its website. — MiG-29 Air USA is able to perform the task of aerial combat, providing excellent opportunities for training and flight tests".
Russian military journalist and analyst Diana Mikhailova said in his blog about how the company purchased those training version of the mighty Soviet fighter.
There are other companies that offer an impressive aircraft. Among them Tactical Air Support and Draken International. At Tactical Air Support fighter jets have the CF-5 Freedom Fighter, a Draken offers a fleet of different cars, from modern training aircraft to the MiG-21.
Meanwhile, in private hands, fall even such an effective aircraft as the su-27. The firm Pride Aircraft helped to purchase in Ukraine these two powerful fighter is designed to gain air superiority. It is unclear in whose hands were in the machine, but recently one of the su-27 was observed during the conduct of air combat training with F-16 in Nevada on the Nellis air force base.
Maybe the su-27 belongs to the U.S. air force. The former commander of air combat command General hawk Carlisle (Carlisle Hawk), who served sometime in the 4477 th test and evaluation group, told me that he flew the su-27. Perhaps it was one of two aircraft purchased in Ukraine.
Several years ago I spoke with a former pilot of the F-14 Tomcat Galopom Jerry (Gerry Gallop), who traveled to the Ukraine to buy su-27. Gallup was very impressed with the wonderful flight performance of this aircraft in Soviet times.
"I had no idea what I'm going to fly at supersonic speed for 25 minutes. We climbed to a height of 6000 meters at a speed of M=0,9, conducted an inspection of the engines, and then decided to go up to 10,500 metres and fly at speeds of M=1,35 to evaluate the performance of the machine at that speed. It's all very similar to the engine TF30 (Pratt & Whitney company), established on the F-14A Tomcat. When flying at supersonic speed, crank the engine control should be put in idling conditions so that the momentum was big enough, and it was not surging, — said gallop. — We climbed to 7000 meters, and I thought that 0.9 will rise to 10 of 500 metres, and then give the acceleration to M=1,35. But no. We just turned the blowers, raised the nose, clocked on the rise to 1.35, went horizontally at 10 500 metres, checked the engines, then turned the blowers, overclocked to 1.55, up to 14 300 m and then just slowed down fast and furious to a minimum."
The plane flew at supersonic speeds for much longer than expected. "We slowed down fast and furious to a minimum, but I still was flying at a cruising speed of M=1,3," — said gallop. Double the su-27 was without a payload and extra equipment, that is, he weighed almost half a ton less than usual. Nevertheless, he developed an impressive speed, especially at high altitude. And when the pilot started to reduce speed after 25 minutes of supersonic flight, the results were also very curious.
"I removed the afterburner, the speed drops, but I'm still flying at supersonic speed, said gallop. — When we finished, 25 minutes flying at supersonic speed, I looked at the fuel and realized that I could turn around again to the same fly at supersonic speed, and I have enough fuel to normally sit."
But back to the topic of conversation. The aircraft of the Soviet production are likely to be costly to maintain and repair in the USA. But if the contractor is ready for such costs, and the air force will be beneficial to buy these services, it is worth it.
Dave Majumdar is editor of the National Interest, covering military issues.
Comments
comments