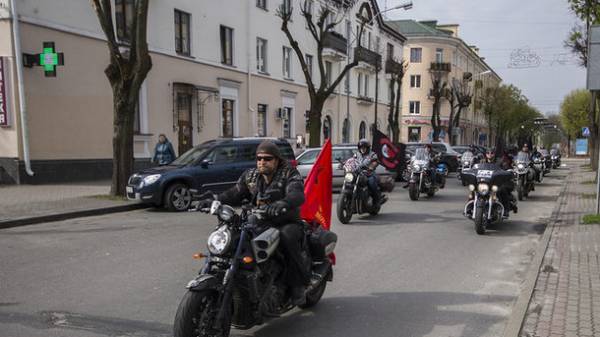 Russian biker club "Night wolves" arrived in Poland, RIA Novosti reported with reference to the representative of the Polish branch of the club.
"Across the border into the territory of Poland has successfully implemented our column. Due attention to the mileage of the Polish authorities, the column was only citizens of the European Union", — said the Agency interlocutor.
Currently, the "Night wolves" are headed to Warsaw, where he will lay flowers at the tomb of the Unknown soldier and the memorial military cemetery, where are buried the Soviet soldiers who liberated Poland.
Action biker "Road to Victory — Berlin" was launched on 27 April from the international bike center in the Moskovsky district of Nizhny Mnevniki. Bikers already passed Smolensk, Katyn, Minsk, Khatyn. The route lies through the towns of Warsaw, Wroclaw, Budapest, Bratislava, Prague, Dresden and Berlin.
As previously reported, Ukrainian border guards are monitoring the situation with moving on the territory of Ukraine of organized groups to participate in provocations, this also applies to motorcyclists the biker club "Night wolves".
Comments
comments