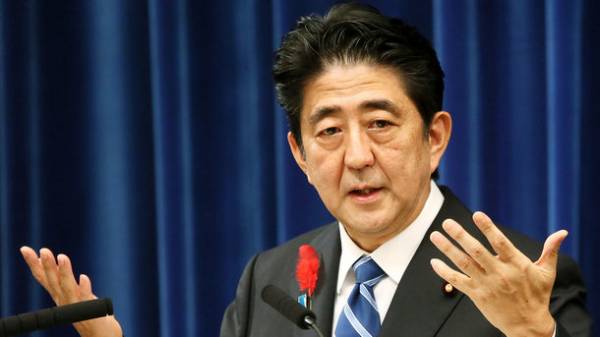 North Korea's decision to launch another ballistic missile represents a serious threat to Japan, Prime Minister Shinzo Abe in London, reports "Gordon," with reference to Reuters.
Abe said that the test of the DPRK are totally unacceptable, Japan condemns them and calls on the US and China in this regard to keep the pressure on North Korea.
He also said Japan intends to maintain the coordination with the United States and will maintain a high level of combat readiness to protect its citizens.
On April 14, the TV channel NBC, citing a source in American intelligence reported that the US is ready to make a preemptive strike on North Korea to prevent another nuclear test by Pyongyang.
The North Korean General staff said that North Korea may attack U.S. military bases in Japan, South Korea, and the residence of the South Korean President in Seoul.
April 17, Deputy Minister of foreign Affairs of the DPRK Han Ryul said that if the US takes military action against the DPRK, it will lead to "full-scale war."
The US deployed two destroyers close to the coast of North Korea – ships with cruise missiles "Tomahawk" is located 500 km from the proposed site of nuclear testing.
That on April 29, North Korea launched a missile, reported Yonhap, citing information of the joint chiefs of staff of South Korea.
The representative of the Pacific command of the armed forces of the United States noted that a ballistic missile has not left the territory of North Korea.
Comments
comments