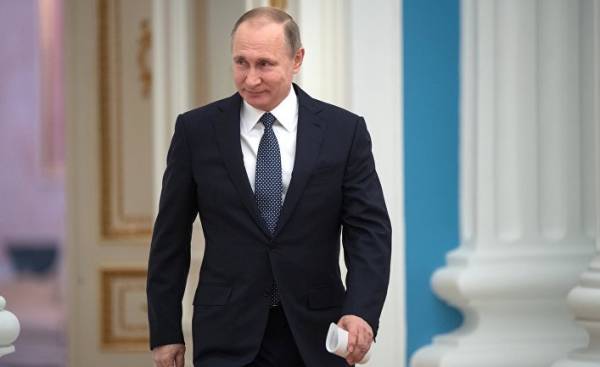 American President Donald trump and Russian President Vladimir Putin is scheduled to hold the first meeting on the sidelines of the summit of "Big twenty" in Hamburg in July of this year. Of course, if they didn't meet before.
The Russian newspaper "Kommersant" reported that trump and Putin may meet before the end of may, when the us President will arrive in Brussels for a NATO summit, and the summit "the Big seven" which will be held in Taormina, Sicily. According to the report, trump and Putin will take place at some still unknown European country. This is confirmed by sources in the Russian and American administrations.
"Kommersant" States that the first meeting will be of great importance for the formation of Russian-American relations during the presidency of trump. The newspaper helpfully notes that after the era of Obama, these relations have not yet improved. The investigation continues into the case of Michael Flynn, who resigned, lied to the American Vice-President Mike Pence (and the American people) on his conversation with Russian Ambassador Sergei Kislyak on the abolition of sanctions, and who may have committed a crime, without revealing details about the money that he received from the Russian state TV channel RT. (Russian media and lawmakers called the resignation Flynn the result of Russophobia and witch hunts.)
Some Russian experts doubt that meeting face to face will improve the situation to a greater degree than it can make phone calls. According to the program Director of the Valdai club Andrew Sushentsov, relations cannot improve as long as unilateralism, which has become a feature for all US administrations.
Others are more optimistic. Director General, Russian international Affairs Council Andrey Kortunov said that the sides will discuss issues requiring detailed work, such as Syria and Ukraine. He believes that the meeting will begin with a search for common ground. Kortunov also believes that since the timing of the summit coincides with the next meeting of NATO, where relations with Russia will be one of the main issues (if not the main), it shows that trump is ready to "invest in the relationship with Moscow his political capital".
Of course, there are other problems, in addition to Syria and Ukraine (and the state of human rights in Russia, which today does not protect older journalists beaten to death in prison, and opposition activists are persecuted on the streets), which can be spent that political capital.
However, unanswered is the question of whether or not will the meeting between trump and Putin (whenever it took place) the way to develop relations with Russia in the trump, when ambiguity and innuendo much more than improvements.
Comments
comments