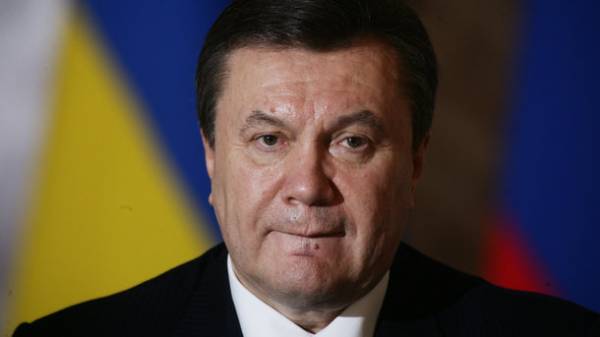 The court of final appeal allowed the confiscation of the arrested 1.5 billion dollars that belonged to the ex-President of Ukraine Viktor Yanukovych. This is with reference to the press service of the national security Council and defence of Ukraine (NSDC) reports "Ukrainian truth".
"According to the court of last resort, the arrested funds of Yanukovich and team – $ 1.5 billion – should be listed in the Budget", – quotes the edition a press-service.
"Just to the Bank with this definition (court – Ed.) went Prosecutor General Yury Lutsenko and NSDC Secretary Oleksandr Turchynov. They reported this to the management Oschadbanka and went to tell the President", – is spoken in the message.
"As of now there is a transfer of these funds to the accounts of the state budget", – added the NSDC, reports the publication.
As you know, January 28, 2015 the State service of financial monitoring blocked of 1.42 billion dollars in accounts of non-resident companies linked to Viktor Yanukovych, his family, and also with officials of the former government of Ukraine and related entities.
We will remind, the Pechersky district court of Kiev arrested the house "Honka", located in the former residence of ex-President of Ukraine Viktor Yanukovych "Mezhyhiria."
As reported, the ex-President of Ukraine Viktor Yanukovych and his son Alexander have denied involvement in frozen Swiss assets.
In turn, Swiss President Doris Leuthard pledged to the President of Ukraine Petro Poroshenko, which will help with the refund of ex-officials in Ukraine.
As reported on 9 December 2016, the Swiss Federal Council decided to extend the arrest of accounts of Viktor Yanukovych and his entourage. As claimed by the Swiss authorities, the arrest was extended to frozen 70 million francs.
In turn, the lawyers of Viktor Yanukovych's claim that information about the presence of fugitive accounts of the guarantor in Switzerland is not true. Lawyers have written to the Swiss authorities a letter in which they demand to deal with the information about accounts of the former President in this country.
With 2014 on the accounts of Yanukovych frozen 70 million Swiss francs (almost $ 70 million).
In turn, the lawyer of former Ukrainian President Viktor Yanukovych Vitaliy Serdyuk called false information about the presence and arrest of accounts of Yanukovych and funds them abroad, including in Switzerland.
In Ukraine, the GPU arrested the means of fugitive ex-President Viktor Yanukovych in the amount of approximately 127 million dollars. The state service of financial monitoring, in turn, has blocked the funds of 19 companies-non-residents, which were associated with the entourage of the former President of Ukraine, in the amount of 1.34 billion dollars.
Yanukovych says he never had offshore accounts.
Comments
comments