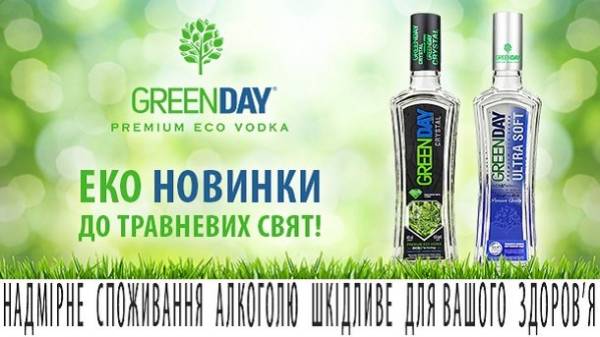 One of the most famous Ukrainian eco brands presented their new products, whose characteristics promise to be hits on the Ukrainian vodka market. Studies show that buyers appreciate Green Day for purity of taste, stylish design and perfect health in the morning. And just on the eve of the start of the "shashlyk-natural" of the season, a line of eco-friendly vodka has added two new products – Green Day Crystal and Green Day Ultra Soft.
How do they differ from their big brothers?
Vodka Green Day Ultra Soft has a wonderfully mild flavor and weightless fragrance. "The new formulation is interesting and unique. For example, we first entered into its composition aromatic spirits of Damask Rose petals, which rounds off the taste and neutralize the smell of alcohol. The result exceeded our expectations – Green Day Ultra Soft was probably vodka with the soft taste in the line of Green Day," says new marketing Director Sergei Korolchuk.
As for vodka Green Day, Crystal is, perhaps, the most daring of our new products. For the first time in the design of eco-friendly vodkas we used black color, and the pattern on the label changes depending on the lighting.
The vodka undergoes additional stage deep polishing filtration, and then Green Day the Crystal literally playing the glitter of crystal clear liquid! This vodka for the most discerning connoisseurs of pure vodka taste.
And most importantly, what would be the position of the Green Day you choose, one thing remains unchanged – a good feeling in the morning! With Green Day the evening will be pleasant, and the morning – good!
Comments
comments