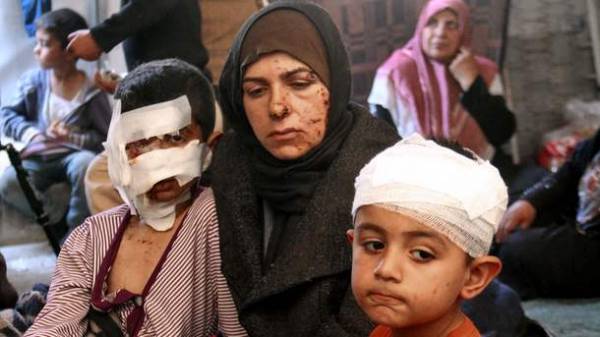 The Ministry of foreign Affairs of France published a report on the chemical attack in Syria, 4 April 2017, which says about receiving the French intelligence services "scientific evidence" of the use of prohibited weapons by the army of President Bashar al-Assad, reports "Medusa".
The report presents the results of analysis of samples from the scene of the attack, which France received, "utilizing the necessary resources". The study showed the presence in the samples of sarin gas, a byproduct of its synthesis (diisopropyl methylphosphonate) and hexamine, which, according to French intelligence, was used in the production of chemical weapons in the Syrian scientific research center (SSRC).
Taken from the scene of the attack in Idlib samples, the report said, similar to the substance from unexploded ordnance, discarded in 2013 in the Syrian city of Sarakibe. The fact that the attack on the Sarakibe was carried out by the Syrian air force, France considers it a proven fact.
"The production process of sarin used on 4 April, same as in the result of which was the sarin used by the Syrian regime in Sarakibe. Moreover, the presence of hexamine shows that the process was developed in the Syrian research centre Syrian regime," the report says.
As previously reported, the alleged attack with chemical weapons occurred on the morning of April 4 in Idlib. According to witnesses, poisonous gas over the city sprayed Russian military aircraft su, which belongs to the air forces of the Russian Federation and Syria.
April 5, Syrian Observatory for human rights reported that the death toll as a result of possible chemical attack in the town of Khan Shaykhun was up to 72, hundreds injured.
In response to this attack, the US launched a missile attack on the airbase in Syria. The Pentagon said that 59 cruise missiles "Tomahawk" was released on the Syrian 4.40 time with destroyers in the Eastern Mediterranean sea. The President of the United States Donald trump explained that he acted in "the vital national security interests of America" to prevent the use of chemical weapons. According to him, the base, which is attacked, was the starting point for chemical attack.
Comments
comments