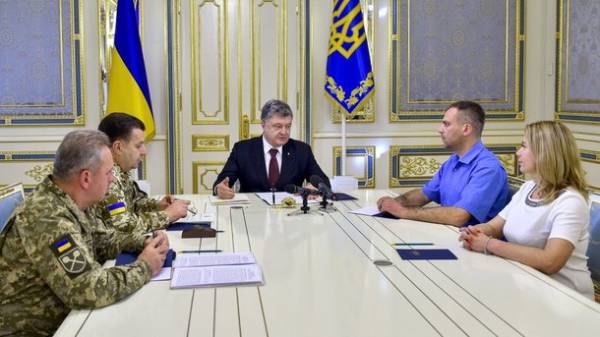 President Petro Poroshenko has signed the law on increase of social protection of servicemen and members of their families, the press service of the head of state.
The President stressed the importance of monetary compensation to the families of soldiers killed on the front, and the wounded defenders. "We are even in these difficult conditions made the decision that we increase by 50% (compensation – ed.) and family will receive more than 1.2 million hryvnias from the state if it (the death of the military – ed.) happened right in the battle. By 50%, from 400 thousand to about 640 thousand hryvnia increased compensation in case of disability of the first group," – said the head of state.
The President added that together with the volunteers was able to significantly improve the level of clothing, food, medical, logistics and weapons.
Poroshenko said that in 2014 mobilized a sniper has got 600 hryvnias a month, today sniper in the ATO receives around 600 hryvnia per day. In addition, he instructed to raise the level of copayment for the military who are on the front line in the ATO area.
"On the first line today, the level of the surcharge shall be 7.5 thousand hryvnia to the level of security. And the General cash collateral may be not less than 15 thousand hryvnias. Except for patriotism, there is tremendous motivation and adequate response of the state, which cares about its soldiers," – said Petro Poroshenko.
Petro Poroshenko also stressed the importance of ensuring the ATO veterans quality care and to provide the possibility of rehabilitation, including psychological. He noted the principled positions to improve the level of protection and provision of additional benefits, regardless of the level of material security of the family – free receipt of medicines, medical services, 50% discount on housing, to use public services, etc.
We will remind, on April 6 the Verkhovna Rada increased one-time assistance to families of fallen soldiers and war casualties.
Comments
comments