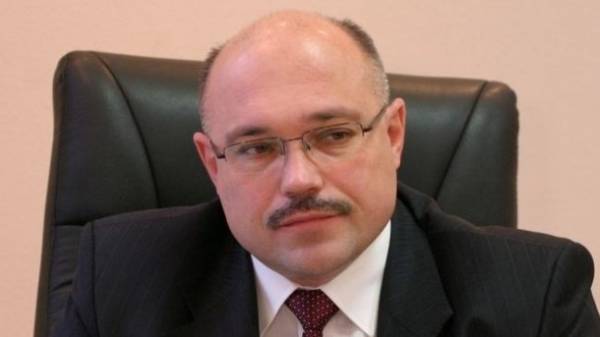 The Solomensky court of Kiev chose a measure of restraint for the Director General of the company "Vostok" Alexander Sorokin, reports TSN.
The court decided to appoint Sorokin house arrest from 22.00 to 6.00. He must surrender all passports and wear an electronic bracelet.
The Prosecutor requested the measure to the Director General of "VostGOK" in the form of detention. To the court to support the suspect came, in particular, the Chairman of the Verkhovna Rada Committee on regulations Pavel Pynzenyk.
As you know, the head of the plant appeared in the case of the people's Deputy Nikolay Martynenko. Suspicion Sorokin employees of NABU was announced on April 24.
As reported, on 20 April, the detectives NAB Martynenko was detained in the criminal case on embezzlement of funds of the SE "Eastern mining-processing combine".
According to the investigators, GP "VostGOK" signed a contract with the intermediary company controlled by detained ex-Deputy, for the supply of uranium concentrate at inflated prices, resulting in state-owned enterprises in the years 2014-2016 was damaged in the amount of 17.28 million dollars.
Martynenko announced on suspicion of committing crimes under part 1 of Art. 255 (creating criminal organization), part 5 article 191 (assignment, waste of property or taking to them by abuse of official position) the Criminal code of Ukraine.
In turn, Martynenko said he believes in open criminal case against him politically motivated.
22 APR Solomensky regional court of Kiev released Martynenko on bail of 15 MPs and Ministers from the "popular front", although a Specialized anti-corruption Prosecutor's office demanded to elect him a measure of restraint in form of detention for a period of 60 days with a right of bail of 300 million UAH.
According to NABU, in the criminal proceedings on the fact of misappropriation of funds of GP "VostGOK" detectives NABOO is already reported about suspicion of five persons (two organizers, two accomplices and one perpetrator of the criminal scheme).
In addition to the former Deputy, reported suspicions of the acting General Director of JSC "United mining and chemical company", first Deputy Chairman of the Board NAK "Naftogaz Ukraine" and the General Director of GP "VostGOK".
The fifth suspect – one of the leaders of the state concern "Nuclear fuel", which includes GP "VostGOK" – it is reported about suspicion in the manner prescribed for cases where the suspect is located outside of Ukraine as a suspect in March has left the territory of Ukraine and is still not back.
Comments
comments