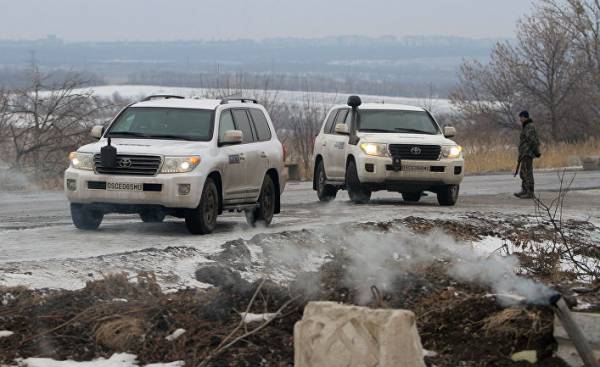 Speaking about the situation with undermining the car of the OSCE mission, it should be noted a very curious reaction of the Russian foreign Ministry expressed outrage at the lack of security for the OSCE mission in Ukraine. In Moscow remembered that the Donbass is part of Ukraine.
Naturally, the responsibility falls on the territorial structure, which holds power in the region. Not so much on the so-called separatists, how much for Moscow, control of the situation there. I do not think, however, that this will lead to some dramatic changes, but in the eyes of the United States, especially now, when the administration only trump formulates his attitude to Ukraine, this case would not contribute to strengthening Russian positions.
This case, of course, was discussed during a telephone conversation Poroshenko with Tillerson. Americans are always very sensitive to the loss of its citizens. But the conversation probably were of a more General nature.
Support Ukraine — not a new U.S. position, she has repeatedly put it. As for the continuation of sanctions on Minsk and the Crimea, they are very different. Most painful, of course, the Minsk sanctions. Crimea is more travel and the movement of the Crimean some Russian officials.
The lifting of sanctions on Minsk, and it was literally formulated Tillerson, associated with the execution of Moscow of such key terms as the withdrawal of troops and transfer control over the border. By the way, it should be noted the new position of the Kremlin concerning Donbas. Obviously, the attempt to legalize "Lugandoniyu" in Ukraine has failed, despite the pressure of France and Germany on the official Kiev. Now Moscow is betting on the rise of subjectivity of the territory: the recognition of passports, the introduction of the ruble, the subordination of economic objects etc., So de facto the Minsk agreement is dead, they will never be fulfilled. And this means sanctions will continue.
As for changing the channel format after the presidential elections in France. Let's start with the fact that the victory of Le Pen is impossible: despite support for her campaign by the Kremlin, Moscow's main bet was placed on Fillon. I think that the position of the Macron will be even more Pro-Ukrainian and anti-Putin than the position of Hollande.
We see that the vector of the mood in Europe has changed. The last time it was possible to watch a whole series of defeats of the plans of Moscow: in the Netherlands, in France, it is clear that Merkel will remain in power in Germany. So that political trends are not in favor of the Kremlin.
Comments
comments