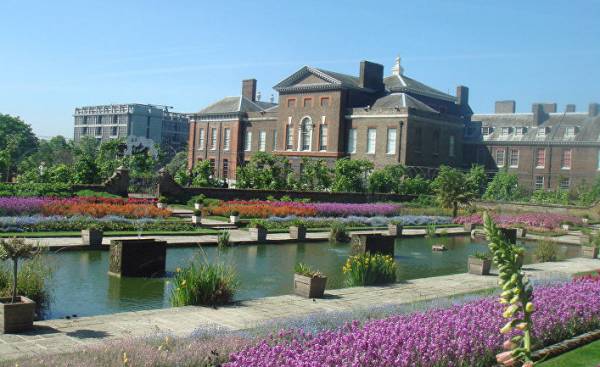 On Wednesday 19 April 2017 columnist of the newspaper The Telegraph, bryony Gordon has taken to Kensington Palace to interview the Prince of Wales Harry. The following is a transcript of this interview.
Gordon, bryony (Bryony Gordon): Good afternoon, it's bryony Gordon. Welcome to the first episode of my new podcast called "Mad World." Throughout this series of 10 episodes we will talk to themselves with different people about their experiences of mental disorders, and more importantly, we'll talk about that feel strange — totally normal. Our first guest needs no introduction. To my utter joy, the first guest on this podcast was Prince Harry!
Prince Harry: Good afternoon.

— Good day!
— I'm the first guest? I thought… Okay.
Yeah, you're our first guest! We have set a pretty high bar.
Fine.
— Unless you ask my grandmother to come next week!
Hmm… I Think she only signed for a video interview and that sort of thing. It is not yet ready to sign up for the podcast.
— Well, what to do…
— I don't really listen to podcasts, so this is all new to me…
Really?! Well, a podcast is something like an informal conversation in the pub, but we're not in the pub, and in a Deluxe room at Kensington Palace.
— All of our listeners — just imagine: ancient paintings hanging on the wall…
— There are still some of your photographs with captions.
— Yes, there are still a few signed pictures, but to talk about it we won't, it's embarrassing. I got near a kettle with tea, it is excellent.
— Thank you very much for agreeing to come. We usually start off the podcast with, "How are you doing? How do you feel?", as we ask each other this question hundreds of times a day, right? I think Heads Together, what are you doing to change attitudes to mental disorders… by the Way, can I call you "Harry"? And even better — "Hazza"?
No problem.
Well, Hazza! How are you doing?
Hmm… you Know, I spent most of my life, answering "I'm good" right in such conversations. Being an example for many other people who asked: "How are you, how are you doing?" — "I'm fine, I'm fine!"; to answer "Excellent" was much easier than to go into details, as you say, "you know not", this is followed by a new question. Followed by another, and another — and most of us decided not to go into this…

Yeah.
— So today, I'm fine. A little excited, a little tense, but otherwise I'm fine!
— Don't worry!
— Well, I think the excitement is there to understand.
— I don't bite, I promise.
Okay, although I have heard it all…
So, I want to talk about Heads Together and what you are doing. I'm going to participate in the marathon for Heads Together, and it's…
— Congratulations, by the way.
— …it's literally crazy idea, the craziest thing I've ever done, and I did a lot of crazy things.
— I heard about that!
How is any of this at all… I mean, you guys could participate in various charity events — why are you interested in it a mental disorder?
— For a number of reasons, really. Among other things, because of the charity work that we conducted with William and Kate, be it helping the homeless, children and the rest of it, and of course because of my connections with the veterans, wherever we go, we encounter problems, one way or another related to mental health. In the end we got together and decided that it would be nice to attract the attention of the whole of the UK to ensure that we will be able to change the attitude towards mental disorders and to rotate their coverage the better, because they are associated with a variety of other problems! And while we worked, we met new all the people affected. And we thought we had never done this kind of work together, because I was not ready for this, but you know, it was very exciting. And we all have our feelings about what we do, we all do it for different reasons. Yeah, right, we all had our reasons, but the main was that it was a good time — it said the people who wrote in Newspapers, appeared more related news. And it occurred to us: and not to turn the discussion of this problem, to join the entire country — in my experience, is to begin to discuss, as you know, that really is not one!

— Yes, it really is important for many people.
— That's right! This is important to many people, and they need to talk. Don't know what it is, British restraint, or simply that we are not able to speak out about their experiences, because we believe their weakness — something in this spirit. After I spent five or six years, speaking with retired from the army guys on post-traumatic stress, anxious depression, panic attacks and alcoholism — all these things — after these conversations, it became quite obvious that even small problems from childhood can rise to the surface because of something like Afghanistan. So we realized that regardless of who you need to talk, something needs to start, otherwise how would you know who to call, where to go and how to deal with this?
— No one got rid of mental problems, ignoring them.
— Absolutely. That's the whole point — if you suppress it, it will kill you.
Yes. We don't need to suffer in silence. Every year one in four of us — and that means we all know someone…
Exactly.

— …who right now is suffering from something. So you had personal reasons — I don't want to be too curious, because I'm not too close to know. No, of course I do — I have so many questions! You know, we just mentioned each of the fourth and that feel strange — completely normal, really strange always feel normal.
— Yes, well said.

— I need it — have you had experience of mental disorders, or…?
— Yeah, I mean, I think that was — especially at the beginning of this campaign, and to her too. I think if someone looked at my life — I can't speak for the other two, of course, they have their reasons — but specifically in my case, if you remember that I lost my mother at the age of twelve, being in front of everyone, and then remained in public and all the associated experiences, then went to Afghanistan, and then was — well, should not — then worked in a military hospital with many other soldiers, and absorbed already their problem — anyone will look at this and say, "Boy, something must be wrong. You can't be in order, something with you, Yes it must be wrong." And I'm kind of stuck his head in the sand for many, many years, and some people wrote about it and suggested to me that something is wrong and that it can be connected with Afghanistan. I can say that it has nothing to do with Afghanistan, I'm not one of those guys who looked like their best friend explodes nearby, and then put his harnesses on both feet — thank God I'm not one of them. However, I can say that losing a mom at the age of twelve and burial of all of their experiences for the next 20 years has seriously affected not only my personal life but my work. And only three years ago — thanks to the help of others, my brother and other people, no matter how funny — I finally realized I have to deal with it that you just can't convince myself that I'm not affected.
— It was your way to cope with all this?
My way to deal with it — yeah, stick your head in the sand to refuse to think about the mother, because, in the end, it will not help, only make it even harder and it will not return. So emotionally I said to myself: "So, don't let your worries on what to influence", and continued to live like a normal 20-25-28-year-old person who keeps talking that life is beautiful, or at least not bad.
Yes…
And exactly the way I was. And then I spent a few conversations, and suddenly all that grief that I never experienced as it should, popped up. I realized: "But there's a whole lot of what I need to understand", and all this has left a conflict situation that I could not bear to allow the body immediately rushed into the fray. I was pretty lucky and it only lasted two years but before that was 20 years old, I tried not to think about it, and then two years of total chaos, and I could not grasp, and finally understand what is wrong with me. I thought it was part of growing up or something like that, so I said, "No, it is quite clear" — and after I started discussing this with friends a couple of months later they started to have conversations — "I did so-yeah-so" — and in these conversations, they gradually shared their problems, because I knew that I could understand that, and there's nothing better than to have the opportunity to share their experiences and ask for advice from someone who has already been through it, and not from a complete stranger or someone who has no idea what you went through.
— What is your Heads Together? When I'm talking about my mental health, I usually not entirely selfless, because listening to other people's stories I realize that to feel is perfectly normal.
— Yes, absolutely fine. And you know, I think that this whole military hospital — I worked there voluntarily and heard from these people, many stories, and one morning was found with three people: a girl who tried to commit suicide and explained to me how and why, a guy who suffered from post-traumatic syndrome that trembled, blinked and couldn't hold a conversation, and another, which rang in the ears after exercise in Canada him in the tunnel, threw a training grenade, and because of that he couldn't sleep without recording of rain and thunder, because otherwise the entire night and continued the ringing. The same evening I was at the WellChild event, met with terminally ill children talking with their parents, and you know, I wanted to scream. You kind of have to drive deeper into their own problems because of what you're facing and all you want is to help and listen, but then it all ends and you think, "Wait, how am I supposed to live with all this? I literally absorbed the suffering of many other people."
— You need to deal with their problems.
— Right. And I think — I talked to a couple of psychologists or something like that, and said, "Guys, what's the secret?", and I think the secret is that for every three hours that they listen to other people, had half an hour, during which they speak out themselves, as man was not created in order to absorb the feelings of others in such an amount except that you are one of those completely indifferent people don't care. But at the age of 28 I had reached the point where it is beginning to really bother me when I was very difficult to know where to go next in life, and by the age of 30 I said to myself: "Wow, so much better live!". To deal with all this grief, to be able to talk about it, to share other people's suffering and to know what anyone else goes through — you know, "Well, now I can actually talk about it with other people, and I hope they will understand that I have some experience that I could to share with them", and then you have the common reason for communication, it might not be a joke, if necessary, but if needed, you can take others by the hand and help him when he's down. All this is what has been going through not only myself, but other people I've met — very interesting. I was lucky to meet people who literally launched his own life, and discuss it, to be able to talk to a brother or sister, a parent, a colleague or a complete stranger — I'm sure you know that almost easier to talk to a shrink — the Americans call them shrinks — someone with whom you've never met before. You sit down on the couch and say, "Look, I too need your advice. Couldn't you just listen?" and you give all this to break.
And you did, right?
— Yes, a couple of times — more than a couple times. But it's cool, and I find it hard to believe that I have not done this before.
— I think it must do everything it's supposed to cover NHS (national health service — approx. TRANS.), just to maintain their health.
— That would be great. Everyone has a rough week — how good would it be if each someone he could talk to, to get rid of accumulated for the week and daily experiences here… I can swear?..
Yes, Yes, I can swear.
— …all the daily crap we have to endure — and if it could entirely throw off on Friday, how much better would our weekend? I can confidently say that when I give this stuff to someone else, I feel much better. And no, this is not selfishness, because if it's done with professional help, where to put it then — care professional. They kind of got used to it. So I know how important it is to verbalize their problems, and the only thing you can achieve, keeping them to yourself — not only for themselves but also for others, because a problem may be you. And 20 years I have often been a problem. And I had no idea how to deal with it. I guess I figured it out the same as you, I don't know.

— I drank a lot. When I was sick, I didn't even know about his illness, I just buried it, tried to drown out all the problems, all the pain. And it only became worse. I had a lot to drink, sometimes drugs, and I told myself: "Push it, push it" and it works for a while, and a day later it all comes back ten times worse. It's like a many-headed Hydra — you know what I mean, right?
— Yes, absolutely! And when someone close comes to you and says, "Listen, I think you need to deal with this"… it All depends on the right moment. In my case I was trying to help a brother and kept saying: "you Know, it's crazy, it's wrong, you need to speak", but it was the wrong moment. You owe to yourself to feel it. Still need to find the right person to him to discuss everything. And the biggest reason for anger, and the greatest revelation for me was the fact how hard it is to find such a person, because there are so many different people. Someone who will laugh, someone will say: "you know, it's not the case…", and you answered: "Look, it's not much help because I've spent the last year and a half, getting to its current state, and you push me back." So it is important to find the right person at the right time, but I strongly suggest — and you, too, I think — to start to speak and you will be surprised how much you will receive support and how many people want to hear from you. Some people have much more in common than you expected.

— You have no idea how wonderful what you just said — honestly, I'm not trying to kiss your ass…
— By the way, we are all students over the age of 18?
Yes, the transmission will have to mark something like "obscene lyrics" — they still make those?
I have no idea! Know about is marked "12+" is too low given what it allows you to see.
— And that she allows you to see?
— Don't mention it, perhaps.
— What you do is very important. You know, I remember how I came to run Heads Together last may — then I don't feel very well, and I remember how I saw the children participating in the program who knew all about depression and thought, "God, Yes, here are three of the most famous people in the world, and they talk about mental health", and I just want to say — this is great because if something happened when I was 12, my life could turn completely different. I really want to thank you for this, because the question of mental health…
— No need to thank us, because sooner or later the topic was still discussed. Besides, as I said, we're doing this because they really believe in it. And my mom thought — and it's absolutely wonderful, it seems to me that if you have influence and are in a privileged position, and can subscribe to something that truly believe what they believe and other people, you can overcome any prejudice and to inspire anyone to anything. And I think, I hope Heads Together proves it is not about us, it's about anyone who suffers from daily stress, PTSD, anxiety, alcoholism, depression, anything. That's why we do it, we do it for them, of course it's not us. You know, the sad thing would be to carry out this campaign and not get the support from society and the press, so I think the stars aligned well.
Yes.
And I believe that given our own experience it is understandable why the three of us tried to give it more strength.
— You take a negative experience and turn it into a positive. And it's wonderful.
— I want to believe that we do it with humor, because after 10 years I spent in the army, I sincerely believe that when you sit down with these guys and discuss their problems, all this is not without black humor. I know that the General public may not agree with me, but I can certainly say that when children undergo rehabilitation, the idea that someone stuck in bed and was late for Breakfast because he hid both of his prosthetic leg…
— So you give it all up and do it!
— So you give it all up and cope, in their case. Not that I advise doing the same thing everyone else, because it is unlikely this will work and I will crucify, but it's an experience that I received working with those guys. Someone else will help something else. First of all, we are trying to convince people that say such things — fine, that anyone could sit down over a Cup of coffee and say, "you Know, I had a really bad day. It is possible to share with you?". And then you finish and go on about their business, instead of giving some detail to turn a week later or 20 years into a huge snowball, which you can't get rid of, or you can, but at the cost heaps of money, time, mental strength and pain for yourself, family and friends.
— Now you feel in his place?
— Yes, now I feel in its place. I think… It's weird, because yeah, okay, I'm a Prince, I don't need to worry about the future, I have a favorite work, and in front of her was another favorite work which I eventually went for a number of reasons, but now, thanks to the progress that I have done for the past two and a half or three years, I can relate to his work, it is normal to refer to his personal life, and managed how to invest in really important things, in my opinion, important for others. You know, if I have not understood in advance with their problems, Invictus would never take off. For me, my privilege means a lot of responsibility. If you take both and try to change something in the world around, and make it sincere, and hope that others will notice, you will receive the necessary support and will really start to change the world, because I know the worst would be to be in a position with plenty of opportunities, but did not find listeners. And when everything comes to this point — most likely it will happen when you grow up George and Charlotte, it will be more interesting if the children will lead and I will be all like…
— But you're worth waiting for, right?..
— I'm waiting for this, but I think by that time it will be time to give way to others. But while we are still in the age when we are interesting people, we want to change the world for the better as much as you can. And if Heads Together Heads Together when will be crowned a huge success…

— It has already achieved great success.
Well, if so, congratulations to the UK, I congratulate the entire Kingdom, every person, sick or not — in our days, when there are a lot of bad things, for us it is an occasion for joy. I think we all should Pat yourself on the back for what we have been able to bring Heads Together to the current situation, and began the discussion of this problem in society. Hope Heads Together and this whole campaign will save people from stigma and allow them to talk about their experiences, and what will happen — we'll see.
All it takes, right?
— I agree. Mental health affects a great many other phenomena. As I said, it is associated with everyday stress, and homelessness, AIDS and the like. It's all part of one whole. All from something suffer. We're not robots, we're people.
— The need to invest in mental health are obvious, because these costs are compensated. A happy country is a healthy country, and Vice versa.
Yes. But just imagine if everyone used their mental abilities by at least 50%. Imagine what we could do with their country — don't want to sound too pathetic — imagine what could reach our country, which could achieve ourselves, we reveal that extra 25%… you Know, I've cleaned out of my head all this unnecessary junk, and now I'm 25% better at work and at home — but anywhere. And all of you, I think. Because no matter if you're Prince, or housewife, or the CEO of the company, or a truck driver or a student — no matter who you are, mental health is important for everyone. And if you start to talk about it, it will only lead to good.

— About future plans — you're already thinking about children, once you found your place in life?
I was godfather to many children of my friends…

— How many?
— Five or six, like…
— You're gorgeous godfather.
— I want to believe it. But you know, I think what is most important — not only to grow but also to stay connected with your…
— With his inner child.
…or your inner child, yeah. And if it needs to go to someone's house, sit at the Playstation and kick ass their son in CounterStrike or Halo or something like that — I'll try to do it, although I'm a little rusty. But of course, I'd love to have kids.
— Quick question…
We had not much time, right?
— Really — it just flew by!
— Okay.
— Just flew by, Harry. How do you stay sane? What little tricks do you use to do this — exercise, play Golf? As you pull vapor?
I play Golf.
Bad playing Golf?
— But still play it sometimes. Something else you mentioned something… What was it?
Hmm…
— I can't remember… Training? No, not that. In General, to answer your question — no idea how I stay sane. Saying "I" mean our entire office — we are all exposed to daily pressure. Everyone is exposed to it, I know. But the question you ask me, and I say I don't know how we stay sane, I have no secrets, and I was more than once on the verge of collapse due to grief, lies and errors that are coming at you from all sides. But it's part of my job. It's part of the role I have to perform, and the hardest thing, I think, not be able to stand up for yourself — you must let it all yourself, that's your responsibility. I hope that our family, we as a public institution will be able to remind people about some key values, the key principles that everyone can bear a terrible burden of grief. You don't have to do it, but you can do it, and some people have their own ways, and I think that for me personally, this way has become running or… Generally speaking, during these two years I gradually began Boxing, I started Boxing because everyone recommended me to Boxing, and it's a very good way to release anger, and I'm really saved because I was on the verge of hit somebody when I could beat someone in protective gear, I definitely felt better. I want to run and train, train, train, train and it really helps, and you run a marathon, and many people run marathons for Heads Together; this is such — I mean, that's the easy way out with which you will disagree — but I mean that training — the easy way out. No matter what you are — you can take on anything, and instead of always from something to give how about you take on something new? Every time, when people offer something to give — especially now, in the Post — I think: "why would you not take it?", because if you take on something new, whether it's daily walk, if she has the time, or hike along the river instead of a trip on the subway, and so in this spirit, all this really changes things, and if you are really lucky and you have the opportunity to leave the city — go ahead, get in touch with nature, it is there for a reason! If this is not done, it makes no sense, because it really is so important, it really is so useful, because the costs to run a marathon — how much of it, 26 miles?
— I do not remember exactly, like for 26.2 miles…
— These are 0.2 mile in front of Buckingham Palace, if I'm not mistaken?
— Yes, although I'll still crawl.
— You can do it, certainly, and in four hours it'll fit.
I don't think!
— In General, Yes, encourage people to do something new, start a hobby, anything: Boxing, sports, gymnastics, bike riding — this country is obsessed with bikes, in the end. All forced to endure the daily stress, everyone has their problems and everyone has ways that he can overcome this stress and to continue a normal life. This will not only help you, it will help loved ones and people who care about you. Actually, I don't know what else to say.
Harry, thank you so much! It was just wonderful!
And thank you for the conversation!
— I just want again to hold you close to his chest, but if I do, can't stop, and that's not cool.
— Can cuddle with you later!
Thank you that took part and a big thank you for your hospitality in your wonderful house!
Comments
comments