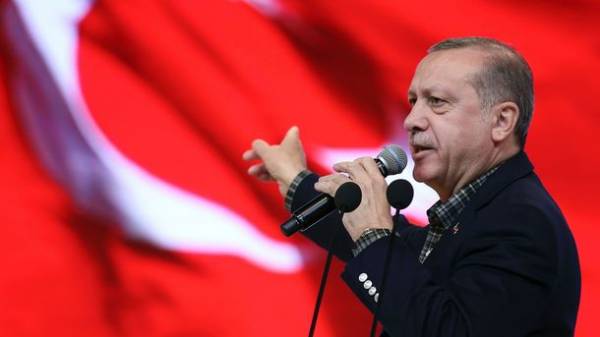 Turkish President Recep Tayyip Erdogan has accused Germany in actions that "remind policy regime of the national socialists".
According to DW, the statement of the President of Turkey was made on 5 March amid the diplomatic dispute between Ankara and Berlin due to the prohibition of speeches of senior officials of Turkey on the events in Germany, where the Ministers were to campaign for constitutional reform.
"Your practices do not differ from the practices of the Nazis in the past," said Erdogan, dpa reported.
The Turkish President said at a rally in Istanbul that Germany "has nothing to do with democracy", according to Reuters.
Official Berlin has not yet responded to these criticisms of Erdogan, however, German politicians are outraged by the comparison.
Justice Minister Heiko Wt Sunday, March 5, called Erdogan's statements "vile, incomprehensible and unacceptable" and urged "to reject them in the strongest terms".
In a similar manner reacted and the Chairman of the faction of the Christian democratic Union (CDU) in the German Bundestag Volker Kauder.
"The fact that the President of a country, member of NATO, speaks of another country, member of NATO, is absolutely unbelievable and unacceptable," he said on the same day.
The Secretary General of the Christian social Union (CSU) Andreas Scheuer said the "horrendous blunder of a despot from the Bosporus", afford such "outrageous and wrong" comparison.
And the Deputy head of the CDU Julia klöckner stated that the Turkish President should apologize.
Recall, Erdogan compared the policy of Germany against Ankara's policy of national-socialists after the failure of three German cities to conduct promotional activities of Turkish Ministers.
Comments
comments