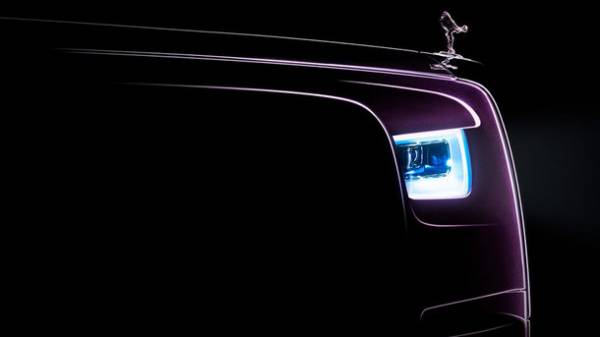 The British company Rolls-Royce has published the first teaser image of the Phantom of the eighth generation. The official premiere of the car, which will be the most expensive serial model of the brand, will take place on 27 July this year.
The model will be both standard and long wheelbase version, the overall length of which exceeds six meters.
Phantom will get a brand new design based on an aluminum frame and bodywork made of carbon fiber. Thanks to this new product will be significantly lighter than its predecessor.
See also: Rolls-Royce connected with well-known musicians to the development of machines
Judging by the picture, the car will undergo some cosmetic changes. For example, a Phantom will be different over the long bonnet and the other optics. In addition, according to previously published spy photos of the car Phantom will get low ground clearance, a modified grille, new bumpers and a different dashboard.
Rolls-Royce Phantom, the eighth generation will be equipped with a significantly upgraded 6.75-litre motor V12 with two turbines. The plant capacity will be about 600 horsepower.
Also do not rule out the emergence of a hybrid version of the car. In motion the current model leads 460-strong engine volume of 6.7 liters.
Recall that in late may, the company introduced the Rolls-Royce Sweptail, which may be the most expensive new car in the world for 13 million dollars.
Comments
comments