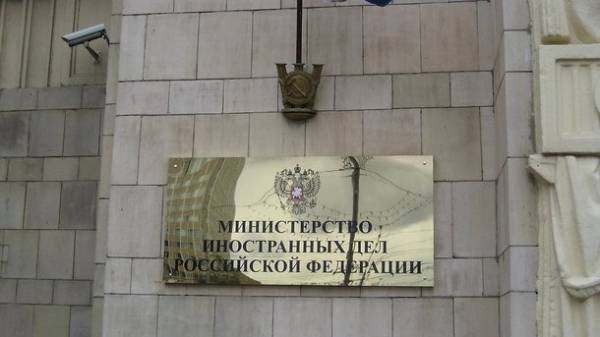 The Russian foreign Ministry commented on the undermining of the car with the observers of the OSCE mission in Luhansk region as a result of which one person died and two were injured. The Russian foreign Ministry claim that the car was blown up by a land mine, while the OSCE suggest that the explosion occurred presumably after contact with a mine. The circumstances of the incident indicate a high probability of provocations aimed at undermining the conflict settlement process in Donbas. It is obvious that such incidents and a General escalation of tension is beneficial to those who are not interested in political, economic and humanitarian provisions of the Minsk "package of measures", reads the statement the Ministry of foreign Affairs of the Russian Federation, transfers TV channel "112 Ukraine".
In the Russian diplomatic Department called for the "intensification of direct negotiations between the conflicting parties ‑Kiev, Donetsk and Lugansk – in the framework of the Contact group with the purpose of full implementation of the "package of measures".
The incident confirms the urgency of proper security of the OSCE observers, as recorded in the mandate of the mission and repeatedly noted by the leaders of the "Normandy format", including during their last telephone conversation on 17 April, the report said.
The Russian foreign Ministry called for a thorough and objective investigation and bring perpetrators to justice.
Foreign Ministry expressed deep condolences to the family of the deceased and wished speedy recovery to the injured.
We will remind, on April 23, around 10:17, during the patrol in the near the village of Prishib, the area ORLO, probably on a mine exploded under the car of the Special monitoring mission of the OSCE. In the incident, one officer of the OSCE were killed and two were injured.
According to the Ukrainian side of the JCCC, in this period, the ceasefire was observed as with the Ukrainian side and from NVF ORLO.
The militants "LNR" in undermining the accused "Ukrainian DRG". In turn, at the headquarters of the military such accusations are called unfounded and provocative.
Comments
comments