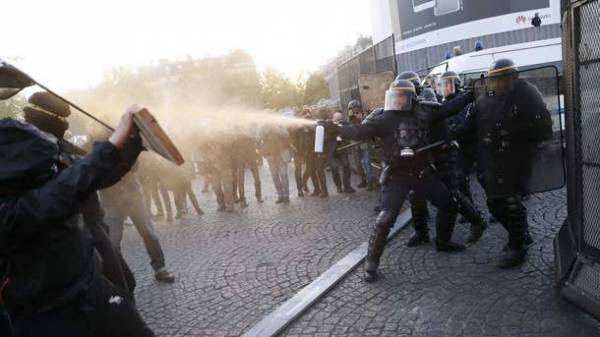 During the protests in Paris the police detained three people, the AFP news Agency reported, reports the TV channel "112 Ukraine".
Some protesters threw bottles at the police and flares.
Video skirmishes, which was published by the Associated Press shows that the protesters had thrown at police, a large object that, something is sprayed from the cylinders and the protesters are forced to retreat.
There were clashes at place de La Bastille, which was attended by several hundred young people.
The leader of the protest told AFP that they are "against marine Le Pen and Emmanuel Macron".
We will remind, in Paris, dissatisfied with the output Le Pen in the second round of elections, suffered woman.
Earlier it was reported that according to exit polls at the election of the President of France to lead Emmanuel macron and marine Le Pen. French President Francois Hollande congratulated Emmanuel Macron with an exit in the second round of presidential elections.
Comments
comments