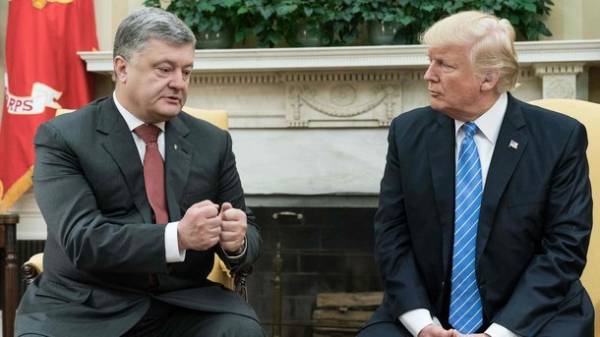 An attempt to solve the Ukrainian-Russian conflict with Putin not taking into account the position of Ukraine is a serious political risk for the us President. About this in his blog at UE says the Director of the Institute of world policy Alyona Hetmanczuk.
According to her, well, that in the reports of the White house following the meeting of President of Ukraine Petro Poroshenko and U.S. President Donald trump and Vice-President Mike Pence was confirmed by the U.S. position on the resolution of the conflict around Ukraine in the "channel format" on the basis of the Minsk agreements, which are linked to sanctions.
"But more recently in meetings with several international leaders (in particular with the European namesake, the American President (Donald Tusk, President of EU Council – Ed.) Trump, according to informed sources, extremely skeptical reacted to the mention of the Normandy and Minsk, instead, threatened to resolve the conflict directly with Putin," writes Hetmanczuk.
See ALSO: First meeting of Poroshenko with trump: will the US policy towards Russia
The expert notes that it is unknown definitively whether trump buried the idea after a meeting with Poroshenko, and here it is hoped that Poroshenko is very convincingly explained to the American President, what actually is the position of Ukraine.
"The main question that was important to answer Ukraine in the White House during the visit Poroshenko, consisted of the following: the American President considers himself only forced referee in the conflict between Russia and Ukraine, or it may be consistent and our lawyer? As paradoxical as it may sound, the results of the visit Poroshenko in-plane resolution of the conflict with Russia will be easier after returning Poroshenko from Washington and after the meeting trump with Putin in Hamburg in a few weeks. It will become more clear on which trump we can expect in the future, an independent arbitrator between the aggressor and victim, or victim's advocate," concluded Hetmanczuk.
Yesterday in Washington hosted the first meeting of the President of Ukraine Petro Poroshenko, the newly elected President of the United States Donald trump. Negotiations in the expanded circle lasted about 30 minutes. The presidents agreed to establish cooperation in the energy sector, discussed the economic issues, and have coordinated their positions ahead of the G20 summit, which will take place in Hamburg at the beginning of July.
Comments
comments