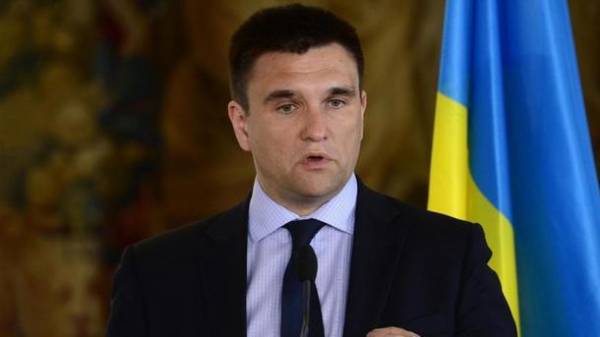 The decision of the International Court of justice in the case of "Ukraine vs Russia" definitely brought the moment the involvement of the Kremlin to account for its illegal actions on an international scale, said Minister of foreign Affairs of Ukraine Pavlo Klimkin.
In comments Klimkin, the press service of the foreign Ministry, notes that the decision of the Court was also a real blow to Russia's position on the world stage and shaken its credibility as a permanent member of the UN Security Council.
The foreign Minister stressed that Kiev will defend the application in the case of the term "terrorism" even if it means finding a much more convincing evidence to defend your position.
Klimkin stressed that Kiev was satisfied that the international court of justice upheld the claim against Russia in terms of human rights violations. "We also welcome the clear precept that Russia should abandon the policy of racial discrimination, in particular against ethnic Crimean Tatars and Ukrainians", – stated in the commentary.
The Minister recalled that the request of Ukraine on the application of interim measures under the Convention for the suppression of the financing of terrorism was not supported. "We respect this decision and understand that requirements for the level of evidence in this case are high. Recognize that the evidence presented to confirm the deliberate intention of Russia to carry out the killing of civilians was insufficient for the court. At the same time, it is important that the provision of Russian support to the militants is not in question", – he explained.
"In my personal opinion, the one who illegally sends regular troops, weapons and mercenaries, is fully aware that can all be used against civilians in terrorist acts", – said Klimkin.
The Minister promised to redouble efforts to collect evidence required for adjudication. "In due time they will be submitted to the International court," he said.
The foreign Minister emphasized that the court decision only strengthened the resolve of Ukraine to bring Russia to justice for her crimes on a world scale, committed in the last three years in the sovereign territory of Ukraine.
"In the history of the Court first dealt with a case concerning the terrorist activities funded by the state. We are pleased that the primary jurisdiction of the International court of justice in this area was confirmed. I am convinced that the court's decision in this case will save the lives of many civilians not only in Ukraine today, but throughout the world over the next decades," said Klimkin.
As reported, the international court of justice (the Hague) under the claim of Ukraine against Russia 19 APR 2017 announced the decision, according to which Russia in the Crimea is obliged to ensure the rights of the Crimean Tatars, to allow the activities of the Mejlis of the Crimean Tatar people and to provide education in the Ukrainian language.
The court also expects Russia and Ukraine to implement the Minsk agreements.
Comments
comments