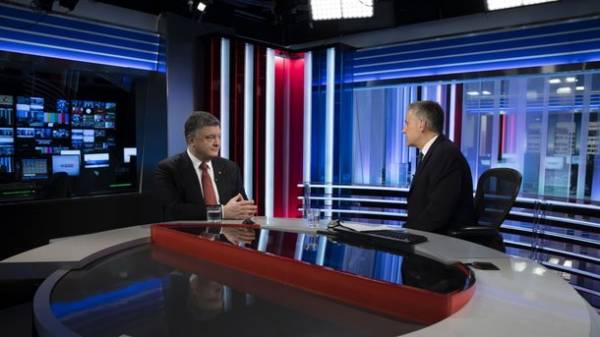 Ukraine's President Petro Poroshenko in an interview to Sky News noted that on Donbass real war, not a frozen conflict, reports the press service of the presidential Administration.
"Some people try to call it (the situation in the Donbass. – Ed.) frozen conflict. Emphasize that it's not frozen. And this is hot Russian aggression against my country," – said the head of state.
He said that since the beginning of the year Ukraine has lost 69 troops and more than 420 were wounded.
"Is this a frozen conflict? This is a real hot war. This is a real aggression," – said the President.
He noted that in the occupied Ukrainian territory there are more than 700 Russian tanks, 1250 artillery systems, more than 300 rocket systems of volley fire.
Petro Poroshenko stressed that pressure on Russia should be extended to stop the killing of Ukrainians. The President again stressed the importance of global solidarity with Ukraine. "Sanctions mechanism to keep Putin at the negotiating table. Putin pays a high price for the sanctions," – said the head of state.
The President also stressed that Russia is waging a "hybrid war" against other countries, which includes elements of cyber attacks, the funding of the populists and the anti-government movement to destabilize the internal situation.
"Russia does not want to have a strong and United Europe. Russia does not want to have a strong and United Britain. She strives for separation, provoking conflicts. Glad these plans, Russia is not very efficient," Petro Poroshenko said.
Previously Poroshenko said that the Ukrainian army is able to effectively contain Russia.
Comments
comments