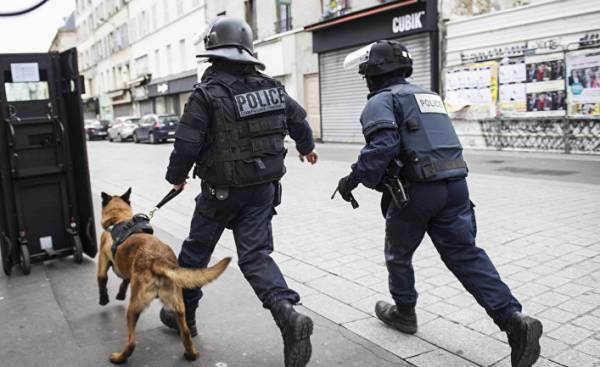 Unknown evening of April 20 opened fire on the police on the Champs Elysees in Central Paris. In the result, at least one policeman was killed and two were injured.
French President Francois Hollande said that the attack was terrorist in nature. The investigation will take a anti-terrorist unit of the French Prosecutor's office.
As reported in the French interior Ministry, the car with the attackers stopped the police car about 21 hours local time.
The man got out of the car and opened fire with automatic weapons. According to witnesses,he was armed with a Kalashnikov.
After killing police, the assailant tried to escape, shooting at other police officers — two of them were wounded. It is also reported about the wounding of a passerby.
The assailant was killed by return fire. The police is searching for his accomplice.
According to local media, the killer was known to the security services and wrote about the intention to kill the staff in the police service Telegram.
Extremist group "Islamic state" banned in Russia and other countries, said that the attack carried out its "fighters".
All the people who were in the Champs Elysees area was evacuated, the police have blocked off the area, the correspondent Bi-bi-si.
Prior to this, many visitors to cafes and shops on the Champs Elysees was locked in the room — on the street did not let them.
Candidates for the upcoming presidential elections have already expressed their solidarity with the police. Marine Le Pen and françois Fillon has cancelled planned for tomorrow a meeting with voters.
The President of the United States Donald trump expressed his condolences in connection with the attacks.
"Our condolences from our country people of France, he said. — Looks like another terrorist act […] what can I say? It will never end".
On Tuesday in Marseille, the police detained two citizens of France who during the search found three kilograms of explosives, firearms, flag banned in Russia group ISIS and jihadist literature. Reportedly, they planned to organize attacks on civilians, similar to those that were committed by 13 November 2015.
That evening several explosions at the Stade de France, where there was a football match, the attackers shot the visitors several restaurants, and opened fire on the audience during a concert in the club "Bataclan". The incident was classified as a terrorist attack.
Another major attack on civilians, qualified as act of terrorism happened in France on 14 July 2016. In a crowd of people walking along the promenade in nice, Bastille Day, was hit by a truck. The two attacks killed more than 200 people.
Comments
comments