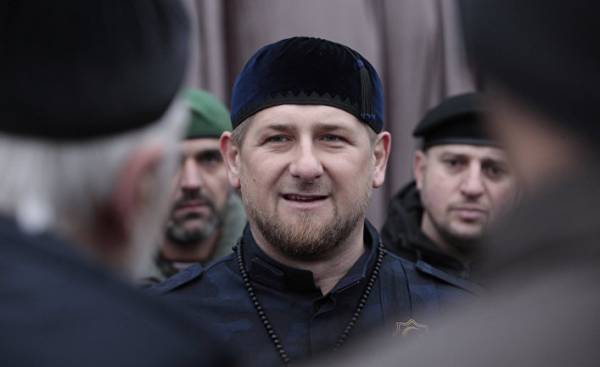 The leader of Chechnya, Ramzan Kadyrov, used the meeting with Vladimir Putin in order to deny reports of purges among homosexuals in this controlled the southern Russian Republic.
According to "Novaya Gazeta", more than 100 Chechen men suspected of homosexuality are prosecuted and three of them were killed. Despite the denial of Kadyrov, an increasing amount of evidence regarding large-scale campaign against gays.
During a meeting in the Kremlin on Wednesday evening a news report which was shown on television, Kadyrov raised the issue of "provocative articles about the Chechen Republic, about the events that happen… supposedly, detention." Putin, asking him to explain comments made by him, did not ask additional questions, and as a result this meeting is largely looked like public support amid international criticism.
Correspondents of the newspaper the Guardian spoke to four people in varying degrees victims of a campaign of persecution of gay men, including one man who told about how his more than a week was tortured with a Taser. In addition, he reported that he was in a prison cell there were 12 suspected homosexuals.
This week, the correspondents of the newspaper the Guardian spoke with two people who were prosecuted for being gay. They both currently are not in Chechnya — they were forced to leave the Republic. They did not want to have been named, their names, ages and other identifying information, citing fear of the Chechen authorities and concerns about reactions from their own families.
Ismail (not his real name) said that the Chechen authorities in October gave him a setup. He exchanged pictures with one man on social networks then this person agreed to meet. But when they met, he was not invited Ismail to his country house, as promised, and drove to the area of deforestation. There are three men in military uniform stripped him naked and beaten and another man was filming the incident on video.
"They insulted me, they broke my jaw and left me bleeding in the woods, he said. They demanded that I paid them a huge bribe, and otherwise they will publish the made video on the Internet, as well as inform my family that I'm gay."
According to Ismail, he paid them a bribe, but when Chechnya began to spread rumors about the persecution of gays, he decided to escape. Police have been to his house and demanded to know where he is. They told his mother that he was gay, and it caused a big family argument. Ishmael now feared that his own relatives were looking for him and want to kill him.
The second men in late March was stopped at a police checkpoint on the outskirts of Grozny, the Chechen capital. After checking the documents revealed that he appears in a list somewhere, and then he pushed me into the car. He heard arrested his men reported that they "found one of those who put backwards".
At the police station he was searched, and one of the officers found in his bag of medical evidence that he is HIV-positive. "They took pity on me and said that I disappeared, left Chechnya and never there never returned", — he said. After that he fled and now lives outside Chechnya. His family think he went to find work.
Many Chechen gay, forced to leave Chechnya and living in Russia today, saying that they feared reprisals. Several European countries had agreed to issue visas to a small number of such people.
Russian "Novaya Gazeta", who first told about the Chechen gay, began to receive threats from a Chechen Islamic and civic leaders. The editors of this newspaper received two suspicious packages with white powder. At the meeting, which was held in the main mosque in Grozny and attended by 15 thousand people, the resolution was adopted. In it, in particular, stated: "Due to the fact that the insult to the age-old foundations of the Chechen society and the dignity of Chechen men, and our faith, we promise that retribution will overtake the true instigators, wherever and whoever they were, without a limitation period".
During his meeting with Putin, Kadyrov said about the fact that threats against journalists in Chechnya are "baseless". However, given the history of attacks on critics of the Chechen leader, "the New newspaper" seriously made threats. Journalist Elena Milashina, who published this article, said she intends at some time to leave Russia.
According to Russian authorities, an investigation will be conducted of all allegations if victims talk about it, but the people who talked with journalists from the Guardian newspaper, said they were too scared to publicly say so without security guarantees.
Earlier, spokesman for Kadyrov, Alvi Karimov denied reports about the purges. According to him, there are no gays in Chechnya is not. "If Chechnya were people, law enforcement would not have any worries with them, as relatives would have sent them to the address from which no one returns", he said.
Kadyrov told Putin that "he is even talking about it is uncomfortable", referring, obviously, to the presence in Chechnya of gays, however, the Chechen leader claimed that all reports are false. According to Dmitry Peskov, official spokesman of Putin, Kadyrov assured the Russian President that these messages are "slander".
However, the Guardian believes that some people in the Kremlin are concerned about these messages and try to test their viability — regardless of the official investigation.
Comments
comments