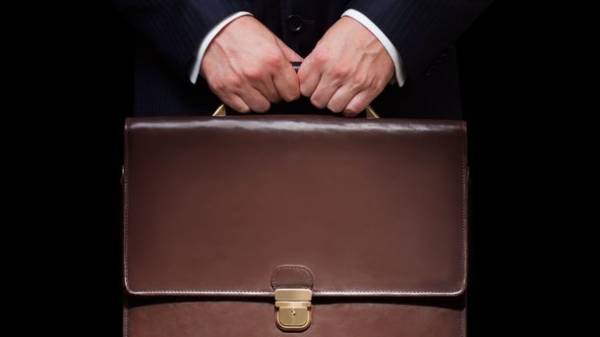 Created two years ago the National anti-corruption Bureau (NAB), whose task is to catch high-ranking officials-bribe-takers and bring them to court, and return to Ukraine stolen by them, continue to report on their work. Now there is an accumulation of data about where in the world is dishonest officials to hide stolen.
Already identified abroad more than $500 million (14 billion) withdrawn money, as well as thousands of meters purchased property worth tens of millions of dollars. All in all, the NEB conducts pre-trial investigation in criminal cases 319, the economic damage for which more than 85 billion.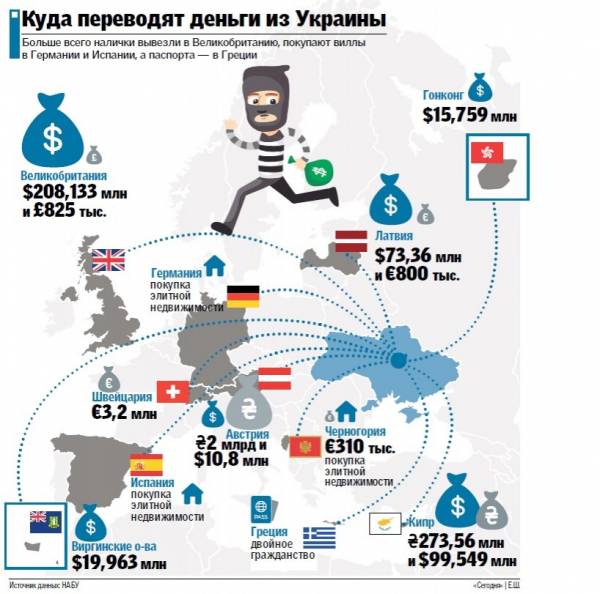 WHERE, WHAT AND HOW MUCH. As you can see from the infographic, the top ten of our favorite corrupt countries headed by the UK — to receive $210 million, Cyprus — $110 million, Austria — $85 million and Latvia $74 million As we explained in NABOO, Britain Ukrainian corrupt love because there are tax benefits and respectability of the jurisdiction of banks and ease of banking operations. Cyprus is not so prestigious, but there are low taxes, and easy financial reporting.
Banking operations are often carried out through financial institutions Austria and Latvia, as local banks work quickly. Moreover, in Austria strictly observe the banking secrecy and are reluctant to reveal the names of the ultimate beneficiaries (recipients of income and benefits), and in the former Soviet Latvia is the easiest way to open a Bank account and they understand Russian language. In Germany and Spain figures of the buy luxury real estate Greece choose because dual citizenship is allowed in this country. And Montenegro is gaining popularity due to its convenient location by the sea and good ecology. Got corrupt also to the virgin Islands (because of their loyal tax policy) and the exotic Hong Kong.
SCHEMA. According to the head of NABOO Artem Sytnik, already established names of commercial entities from more than 10 countries which participated from Ukraine illegally withdrawn over 2.27 billion UAH 428 million dollars, 4.3 million euros and 825 thousand pounds. In transactions suspected the top management of our state-owned companies operating in oil, gas and mining, engineering, agriculture and ports.
The ultimate beneficiaries of foreign companies — participants of the corruption schemes are the citizens of Ukraine, and the companies themselves play the role of intermediaries who assisted the top management of the enterprise to buy its products at below market prices or, conversely, supplies, equipment or raw materials for the needs of the SOEs at inflated prices. Obtained by criminal means revenues are exported abroad and used to create new schemes, and to Finance private purposes of the organizers: buying real estate, pay for children's education, medical care, etc. the NAB has already submitted 161 applications in 41 countries received 55 responses. Most complaints in Latvia (35), the UK (13), Austria, Switzerland and Cyprus (10).
Without sentences will not have the money of the West
Political analyst Vadim Karasev believes that the NAB has done a lot and not in the most comfortable conditions: "Not all senior "shemschikov" can immediately bring to justice, there is friction between the NABOO and the specialized anticorruption Prosecutor's office and other law enforcement agencies. But the main problem — not established anti-corruption court, and in the ordinary civil courts, such cases get stuck for a long time".
Independent banking expert Igor Shevchenko said that while the success of the Bureau can be considered as such only conditionally. "I'm not sure NABU will be able to return the stolen on complicated multi-pass schemes of the previous government — two years planted a few small bribes. The Bureau should focus on hacking the new schemes — it would be much more effective and faster. If there is no real planting of a large "fish" that our Western partners, who initiated the creation of NABOO, can leave Ukraine without financial aid."
Comments
comments