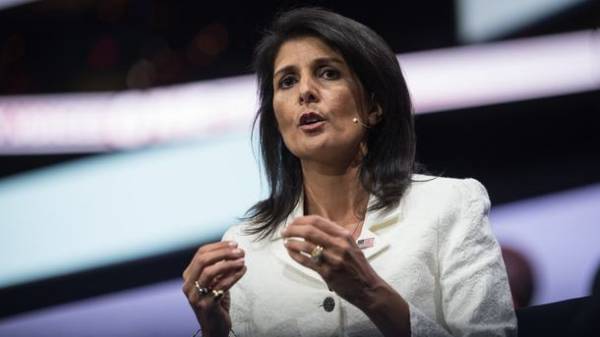 Permanent representative of the United States of America to the United Nations Nikki Haley said yesterday in the Security Council that more attention should be paid to human rights violations in order to prevent conflicts in the world. New conflicts can be triggered by human rights violations in Iran, Cuba and North Korea, reports The Indian Express reports "RBC-Ukraine".
"When the state begins to systematically violate human rights, it is a sign, a red flag, a blaring siren, it is one of the most obvious indicators that this may be followed by instability and violence, able to cross the border," said Haley.
Turning to Syria, she recalled that the war in the country is now in its seventh year and it all started with anti-government protests. Hayley also took responsibility for what she took too soft a stance on Syria at the initial stage of the conflict. She said that North Korea's systematic violations of human rights reinforce nuclear and ballistic missile program.
"The next international crisis may occur in places where human rights are widely ignored. Maybe it will be North Korea, Iran or Cuba," – said the permanent representative of the United States.
United States, presiding in the UN security Council this month, was able to hold a meeting on human rights after negotiations with countries that did not want the item submitted for the agenda. Russia, China, Egypt, Ethiopia, Kazakhstan, Bolivia and Senegal had raised objections against discussing the situation with human rights in the world. During the meeting, China's Ambassador Liu Jieyi made comments and noted that a key in the world is the problem of poverty, not to mention human rights. "All Nations must take development as the first priority," he said.
Recall that the Pentagon will conduct tests of missile defense systems to intercept missiles from the DPRK. The U.S. military will test the system in may.
Comments
comments