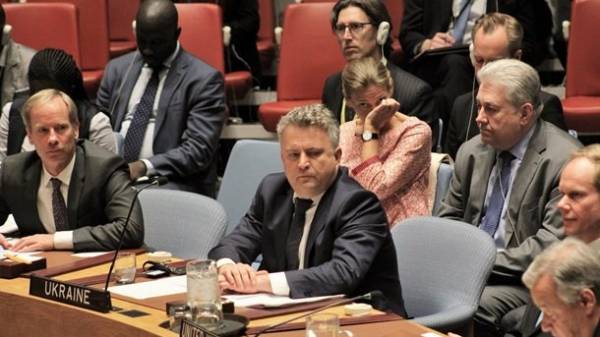 The Ukrainian delegation called upon members of the UN security Council when considering the situation in the Russian occupied Crimea and the Donbas to pay special attention to the observance of human rights in the temporarily controlled territories aggressor. With the corresponding statement was made on Tuesday at a meeting of the UN security Council in new York Deputy Minister of foreign Affairs of Ukraine Sergiy Kyslytsya, reports "UKRINFORM".
"A human rights component should be an integral part during the Council's consideration of conflict resolution and conflict resolution. This approach should be applied during the consideration by Parliament of the question of the occupation of Crimea and Russian military aggression in the Ukrainian Donbass", – said the representative of Ukraine.
He noted that it has been three years since Russia illegally occupied Crimea.
"The occupation authorities commit widespread and systematic human rights violations and seeks to destroy the identity of Ukrainians and the indigenous inhabitants of the Peninsula – the Crimean Tatars and other ethnic and religious groups," said Sorrel.
Deputy foreign Minister of Ukraine reminded that the UN General Assembly in its resolution 71/205 on human rights in the Crimea and Sevastopol has confirmed that "Crimean residents are protected persons under the Geneva conventions and the existing treaties on human rights". He noticed that the UN observer Mission repeatedly documented crimes committed during the Russian aggression against Ukraine.
"Disrespect for human rights, democracy and the rule of law by authoritarian regimes against their citizens, among other things, involves trying to avoid execution during the internal civil wars, as is happening in Syria, or to avoid responsibility for trying the illegal annexation of foreign territories, like Russia did with the Crimea, as well as during its military aggression on Donbass", – said the Deputy head of the Ukrainian foreign Ministry.
He stressed that the correct approach in the process of monitoring violations of human rights could help prevent armed conflict. But if such a conflict has already occurred, human rights can prevent further escalation of violence and serve as a deterrent to atrocities against the civilian population.
Earlier, the Minister of foreign Affairs of Ukraine Pavlo Klimkin said that the Russian Federation involved in every unsolved conflict in Europe.
Comments
comments