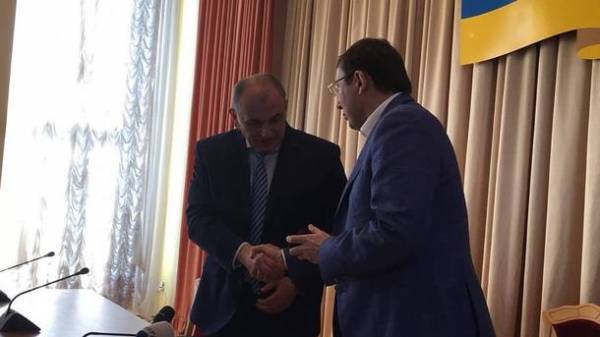 Prosecutor General Yury Lutsenko in Ukraine, was presented the new Prosecutor of the region. In this post Bogdan Polubinski replaces Oleg Sable, which was transferred to Chernivtsi region. About this Facebook reported the press Secretary of the head GPU Larissa garfish.
"Introducing the new head of the regional Prosecutor, Yury Lutsenko noted that there was a "technical replacement", as in Chernivtsi oblast is now in need of a serious fight with the local mafia," she wrote.
"The situation there is critical. Chernivtsi oblast needs in order. Primarily, this is due to smuggling and export of forest. In fact, smuggling exists in many fields, such open but I have not seen even in the Odessa region and Kharkiv. So I decided to send Mr. Sable in Chernivtsi. I think that all will confirm that during this time it has not been comments from the point of view of decency. I am sure that he will cope with the challenges that he put Chernivtsi smuggling," – said Lutsenko.
"The new head of the Rivne regional Prosecutor's office strong-willed, I know how it works. In the Rivne region now resolved the situation with the extraction of amber. The new leader will continue to work in this direction", – said Yuriy Lutsenko.
Earlier it was reported , the Prosecutor of the Lviv Prosecutor's office got burned on a bribe.
Comments
comments