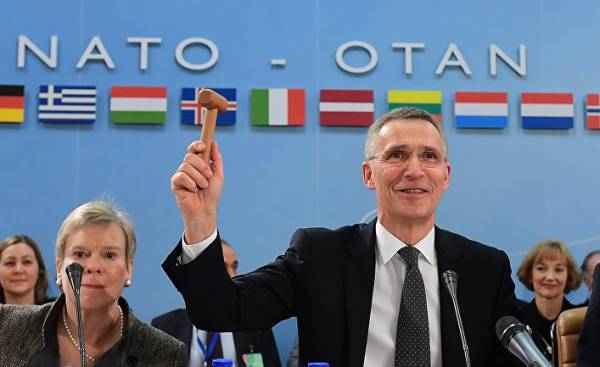 NATO Secretary General managed to change the blue wool sweater for a suit and tie, quick and decisive steps he walks through the hallways of the headquarters that will soon become obsolete. Brussels, Monday morning. In his native Norway will soon begin the campaign, but former Prime Minister and leader of the Labour party for the first time in 44 years will not play any role during the elections to the Storting.
"Frankly, a little strange feeling," says Stoltenberg.
Political cycles were determined almost his entire life. Since the distant year of 1973, when he was 14 years old took part in his first campaign: he was a member of the AUF (the youth organization of the Labour party — approx. ed.) and thought that it is worth it to post election leaflets for all the entrances, the working party will win.
"Now my place on the podium. No doubts which team I support, but any role I not withdrawn. I'm not a Norwegian politician and I should not participate, but I can't do this. Necessary to wean and election campaigns, and the budget negotiations, resolutely he said. I may watch some debates on TV, but I do not know whether. Because it is very hard".
What remains to be done to Stoltenberg, is to continue to lead the NATO "the most serious security situation after the cold war", it is written in the annual report, which he will soon present the world's press in one of the conference rooms of NATO.
Passing through the corridor further, accompanied by adviser for strategic communications Herecom a Stein (Stein Hernes), "right hand" Stoltenberg, and a press-NATO Secretary General Oanoe Lungescu (Oana Lungescu), NATO Secretary General casts a look out the window. On the street, on the other side of the guarded entrance and the road, stands a building that resembles an aircraft hangar, but which in fact is the new building of the headquarters of NATO. It will soon be ready to move.
This building is designed for the future.
"I spoke to trump by phone to determine if he wants to take over the official opening," says Stoltenberg.
"Because he is interested in real estate, he was accustomed to open a new building," he adds, to show that jokes.
Expect the American President to the NATO summit in may. Since then, as Magnat real estate became the 45th President of the United States, the economic contribution of NATO members in the Alliance's budget has become a hot topic. In 2014, member States of NATO decided to spend on defence within a decade a minimum of 2% of their GDP. Donald trump demands that countries not formed any plan to achieve the goal that did it. A country, where such a plan is already there, needs to speed up.
"For many years we could cut our military budgets, because the cold war was behind us. I myself have advocated for this, as Finance Minister of Norway. But the world has changed after 2008, tensions rise, says Stoltenberg. And investment in defence — is not something that occurred only to the United States. All 28 members of NATO looked into each other's eyes and agreed that the goal of 2%".
— What do you think about how trump is to cope with his presidential duties?
"I'd rather talk about defense and security policy, — the Secretary General is responsible. — Trump and his team clearly and specifically stated one thing: the States retain their obligations related to NATO and security guarantees for Europe, and they understand the value of a strong NATO. Peace in Europe is important for the United States."
A strong NATO in a troubled time. The floor in the hall filled with journalists, Stoltenberg familiarizes participants with the basic provisions of the annual reports, in particular, speaks about the terrorist threat and cyber attacks, the risk of which has become more frequent.
"Today, we increasingly live in a gray area than before," he says later.
Jens Stoltenberg

• Born March 16, 1959.
• Family: married to Ingrid and they have two children.
• Best quality: see solutions and find compromises.
• Worst quality: overly preachy and too meticulous.
• Read: in addition to working documents I read many historical books and biographies.
• Watching: TV series.
• Listening to: Bob Dylan, Leonard Cohen and Janis Joplin.
• Whom he admires: women and men who serve to protect our security.
• That is afraid of: that those I love, something can happen.
• How he wanted to be remembered: the person who always did everything in his power.
"We have to get used to the fact that now is not quite peace and not quite war. Before the war had a clear beginning and end, they were clearly restricted geographically. People know who is fighting whom. Today we don't always know when the war starts or when it ends. When in fact the war against ISIS (a terrorist organization banned in Russia — approx.ed)?— he asks.
"Of course she's going to Syria and Iraq, but also in Orlando and Paris, and Indonesia. And, he says. — In cyberspace. This was a hybrid of war means very unclear and a sliding transition between war and peace, this we did not have before".
According to the data contained in the annual report of NATO, in 2016, the organization had been 500 attacks per month — that's 60% more than the year before. Stoltenberg characterized them as serious. The German Reichstag, the Democratic party in the United States, the French court of unmanned, television stations, and Norwegian companies — all supposedly subjected to attacks.
"Helped me to deal with those who are working on the problem daily, and the prospects are daunting," he says. They work a little differently.
— Do Russia and Putin's hybrid war against the West?
"The fact that Russia deliberately behind various sabotage, I am quite sure. This is evidenced by the different national reports. But it is not always easy to understand who is behind the cyber-attack. And even when we see where it is, we cannot say that it is the state. Therefore, we must be careful when we declare that we know exactly who is there at the other end. This can be anyone from individuals to hackers and States. But, says the Secretary-General of NATO, taking into account the large scale of attacks, they probably were carried out by the state. Many intelligence services have clearly indicated that it is Russia, but Russia cannot be the source of everything, there is still a lot unclear.
Press conference in the courtroom comes to an end. Stoltenberg takes questions in the allotted time, while press Secretary to intervene and invites you to a private conversation during a reception for the press immediately after. Once again, the chief NATO goes through the corridors. But when he and his team enter the large and sun-filled reception hall, they are there alone.
No one from the guest list.
Stoltenberg is on a carpet, soft and yellow.
"How good that nobody came," he says and takes a SIP of orange juice.
Along the wall to the buffet with elaborate canapés. Stoltenberg is leaning against the round table-stand. Cook thin slices of slices of delicious ham. The main head he has not eaten anything. Waiting.
"They all write what you have to convey, it's nothing," says communications Advisor Stein Hernes.
Are minutes, the doors appear journalists and photographers.
"Germans first" he says and smiles to the German journalists, before shakes hands with them.
And soon he is surrounded by a large crowd. The hum of voices, the clicks of cameras. Hernes looks at his watch. It's time to finish.
"Behind schedule?" — asks the chief walking down the corridor.
"No, you're late", says Oana Lungescu.
Sky News and CBS each get seven minutes to talk with NATO Secretary General in the TV Studio headquarters. Stoltenberg's makeup, the cameras start rolling. In hardware gets his minutes, The Wall Street Journal, and in another courtroom, on the second floor, the team that wrote and designed annual report, expects that the boss will come by and thank her for the work.
"I think that those who will read it will like it. I personally like," he says, causing laughter, Stoltenberg, when it finally appears.
"Before I became seriously involved in politics, I worked for two years in the Central statistical Agency. I've got a vacation for 26 years. If kicked out of NATO, go back to your old job!"
He gathers everyone to do a group shot, communications Advisor Hernes snaps his cell phone, and my boss has to go on.
The night before: Stoltenberg sits at a table in a cafe in the Park Boise de la Cambre, on the East of the city, close to the chic segment of the street where he lives at the residence with his wife, Ambassador to Belgium Shulerud Ingrid (Ingrid Schulerud). Accompanied by armed guards — they're always around, he walks along the paths among tall trees and dusk and speaks about how he likes this green oasis, leading to a huge "forest of Asterix and Obelix" and then in the village. It is precisely this space. Here he can spend hours to ride a bike, this is the place he calls "my local Nordmarka" (Nordmarka — a large forest area North of Oslo, a favorite place of citizens — approx.ed.)
"I love Norway, and now, when you do not live in Norway, I love her even more. But I got better and better feel and in Brussels, and NATO," he says.
Sometimes Stoltenberg travels to headquarters on a Bicycle through the Park and forest. The brutal pace of work requires to support your physical activity. And requires the same disease. From the mid 1980-ies Jens Stoltenberg ill rheumatic disease ankylosing spondylitis, but he never allows the diagnosis to crush his dreams or to dispose of his life. Ankylosing spondylitis is incurable, but Stoltenberg said that over the years the symptoms became more muted.
"Now she's bothering me less than before. Sometimes the whole body wooden, but it is hard to say, from sickness or from old age, he laughs. And I have medication to help — I owe a lot to medicine."
Most of the regulars sit in. But underneath Stoltenberg crunching gravel, and he says that actually not too familiar with the city. He's either at work or at home in their residence — either here, outdoors, in a Park or forest.
"Urban life with trips to the restaurant less time than I expected when we moved here, he admits. But in Norway the same. Everything mostly spend time at home, in the area where you live."
Home in Norway, he is calling almost every day — father — former Minister of foreign Affairs Thorvald Stoltenberg.
"Torvald always picks up the phone, wherever. Even when speaking from the rostrum. He just interrupts the speech and a little talking to me".
Not necessarily to talk for a long time. They talk about everyday things, he says.
"What I did during the day, will he or I have for dinner, or when we see you next time. For me it is a daily communication is very important."
But life Stoltenberg is not so casual. He finally got the opportunity to take a break in the headquarters. Sitting with a Cup of coffee in his office deep in the headquarters of the Alliance. There on the wall Navy blue carpet in the wall — only the NATO emblem in white stands out from the General background, and a large Desk.
What is the most difficult for you as NATO Secretary General?
Stoltenberg thinks, and then answers:
— Face the terror. On the border with Syria, in Paris or here in Belgium — to run into people who are afraid of a new attack. This leaves a strong impression of terror, which is so close to us that on our streets.
"And what we now meet with Russia very differently, — continues Stoltenberg. Is our neighbor, a country with which I have for many years worked closely as a Norwegian politician. But Russia is a nuclear power, this power, which also began to use nuclear dangers in his teachings and in his vocabulary. Nevertheless: Russia is and will remain our neighbor. But ISIS, on the contrary: they must be destroyed".
In winter, Mikhail Gorbachev, the last President of the Soviet Union, cautioned that, in his opinion, is a dangerous arms race between the world's superpowers. He wrote in Time magazine that everything points to the fact that the world is preparing for war, and that relations between these countries have become worse.
— Is there a danger of a new great war?
"I don't see any immediate threat of a major war, but the world has become less predictable and less safe. We live in fear of terrorist attacks, but it is a threat of a different kind. It comes without warning."
He calls the city in which he lives, Brussels, Paris and Oslo. On the wall to his left photo Utai (Utøya island near Oslo where Breivik carried out the terrorist attack in 2011 — approx. ed.).
"Unfortunately, the fear of terror is real. But fear shouldn't scare us, forcing us to remain silent," said the NATO Secretary General and returned to the country with which Norway is adjacent to the East.
"I'm always trying to find a balance. We need to invest more money in defense, but we don't need the arms race. We should clearly define our position in conversations with Russians, but we have to talk to the Russians. Extremes are rarely the right option. My goal is to emphasize the seriousness of these threats, however, not to provoke, not to exaggerate and not to make everything more dangerous than it is in reality."
In January Klassekampen (Norwegian newspaper — approx. Ed.) he wrote that the government had established an expert group to consider the possibility of Norwegian participation in the NATO missile defence. Russia reacted sharply. In March, Putin through its Ambassador in Oslo,Teymuraz Ramishvili, cautioned Norway: in the worst case, in the Russian view, this could lead to "catastrophic consequences for Europe and for the world as a whole."
— If we have reason to be afraid of Putin?
"I don't use the word "fear". I say that we need to learn to deal with Russia, which began to assert itself, in the sense that they have tried to fix a system where they can monitor the neighbors, as they did in Georgia and Ukraine. This, says Stoltenberg., — this way of thinking, relating to another time when the superpowers could dominate its neighbours."
His life has changed dramatically over the past few years. His mother, Karin, died in 2012, the younger sister Nini in 2014. Children are no longer living in the parental home. Career in Norwegian politics behind, he's 58, soon to be 60.
"My "crisis 50 years" started when I just turned 40," he says.
— It seemed to me that it is so serious — that I've lived half of his life. I now think that there is nothing good that a big part of your life is over, but I'm not as acutely perceive it, as it was then. On the eve of my 50th anniversary I cared. But this is because I love life. I always thought, what else can I do to fix it. I liked this idea, says Stoltenberg thinks, for example, about the career of a scientist which has never happened.
As an economist he could do macroeconomic models and environmental Economics, given his doctorate.
"Gradually I realized that the chosen policy. And I don't regret it, I had the opportunity to meet with many amazing people. But I'm sorry things had to be abandoned. I gladly would have lived several lives."
"I don't like to think that something has to end".
Comments
comments