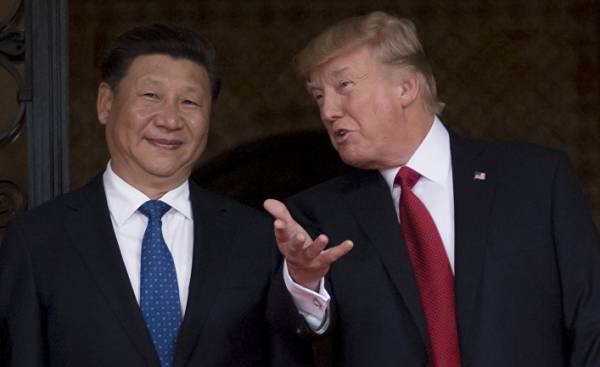 Washington — Over the past few weeks, President Donald trump, who recently took a rather soft position towards Russia and the tough stance toward China, suddenly changed course, deciding that it would be easier to do business with China than with Moscow.
Changes in attitudes trump these two countries returned US to our former position which was occupied by President Barack Obama, who conducted "the policy of the great powers." Although critics of Russia enthusiastically welcomed the tougher tone trump against Moscow, America's allies in Asia, these changes have generated much less enthusiasm because they fear that the United States can begin to close your eyes to the increasingly aggressive policy of China towards its neighbours.
It is quite possible that trump, in the past the successful businessman, came to the conclusion that China's approach to international relations will help him achieve his own goals. Chinese leaders have long been seeking to establish relations with the United States, based on the ideas of respect for the spheres of influence and non-interference in the internal Affairs of each other.
This approach consists in building a balance of power, was the traditional Russian approach. Moscow still wants Washington to leave those countries, which Russia considers its sphere of influence, however plenty of data about Moscow's intervention in the presidential election in the United States and its attempts to influence the upcoming elections in Western Europe prevent us officials to seriously consider this question. The fact that Russia supports Syrian President Bashar al-Assad, and have also recently manifested a willingness to trump opposing the use of chemical weapons exacerbates the situation.
In addition, the typical trump and Russian President Vladimir Putin's penchant for nationalist rhetoric also can lead to a serious clash between them.
A sudden change in the position of trump shocked many world leaders, despite the well-known unpredictability of the American President and his willingness to adapt to changing circumstances.
During his election campaign trump spoke highly of Putin, calling him a very smart and "strong leader." Trump then criticized supporters of the tough stance against Russia, calling them "fools and fools", and declared that if he becomes President, two former enemy will be able to "cooperate to solve some of the most serious and pressing global issues".
Such statements trump helped to strengthen the suspicion that his campaign headquarters joined the conspiracy with Russia to help him become President — at the moment the FBI is investigating to sort out this issue.
"Honestly, if we get along with Russia and destroy ISIS (a terrorist organization banned in Russia — approx. ed.), it will be good, not bad," trump said during his radio interview in October, referring to its desire to establish cooperation between the two countries with the aim of destroying ISIS.
But this week, while Washington and Moscow were arguing about Syria, the US had proceeded with opposite signals.
"We have not established relations with Russia, — said trump. — Perhaps we are now at the lowest point".
This statement trump made at a joint press conference with the head of NATO, an Alliance created during the cold war to confront the Soviet Union. Previously, trump has called NATO "legacy" organization, but now he believes that this Alliance has not outlived its usefulness.
Moving away from Russia, trump reaches out to China. Recently trump has taken China's leader XI Jinping (Xi Jinping) in Florida, and on Thursday, March 13, he called si "stunning" and "special person".
Trump for many years talked about the fact that China is "eating our lunch" and during the election campaign, he promised to declare China a currency manipulator. He even threatened to start a trade war, saying that a positive trade balance of China is the cause of the economic problems of America.
Increasing attention trump to the North Korean threat, supported by evidence that soon North Korea may conduct another nuclear test, has changed the point of view of the trump. Now he seeks help from China, which is the main trading partner of North Korea, and softens the rhetoric. "I think that China did a very good job [with North Korea] before," he said recently.
In addition, trump said that he will not declare China a currency manipulator. This was the second major assignment of the tramp si. The first was the decision by trump not to abandon the policy of one China in which Taiwan is considered part of China.
So what trump is a self-proclaimed wizard to make deals — get in return?
"Until the United States got nothing from China, said Evan Medeiros (Medeiros), who was a White house adviser on Asian Affairs in the Obama administration. The question is, what will happen if they will not give him what he wants."
Trump's aides and White house advisers point to the decision of Beijing to restrict imports of coal from North Korea, calling it a sign that Beijing is listening to Trump. However, these restrictions were imposed in accordance with the UN sanctions, adopted last year with the support of China — then the tramp was not yet a President.
Although such U.S. allies as Japan and South Korea, welcomed the focus of trump on the North Korean threat, mitigating its position in relation to China is worrying. China's ambitions include the establishment of sovereignty over marine areas, which are also claimed by other countries.
Despite trump statements that China is serious about the North Korean threat, Beijing continues to strongly oppose the deployment of advanced missile defense systems in South Korea. Trump, like Obama before him, insists that these systems are aimed solely at protecting from the threat posed by North Korea. But Beijing doesn't believe it and doesn't want in South Korea were deployed system capable of reaching the Chinese territories.
Comments
comments