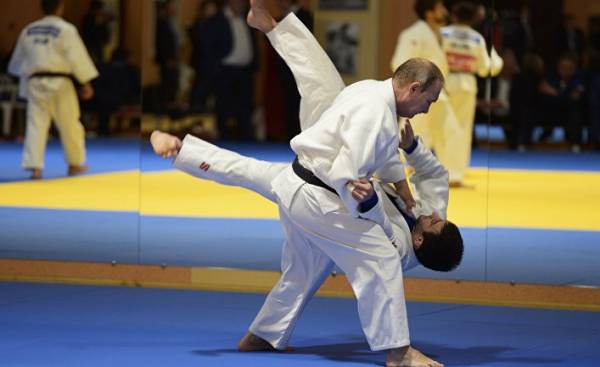 Among people who respect President Putin, also known as judoka, we can distinguish Yasuhiro Yamashita (Yasuhiro Yamashita), who became President of all Japan judo Federation. Since 2000, he annually meets with Putin, strengthening relationships with him. Recently for Russian-Japanese relations it is important step to the head of the Russian Federation and Japan have agreed to seek joint business activity on the "Northern territories". The key is in the hands of Putin, which has huge power. We talked with Yasuhiro Yamashita about the true face of Putin.
You ask how many times I met with Putin? Similarly, more than 20 times. After that I stopped counting.
Putin meets with me, always with a smile on her face, however, in August 2014, the last day of the world judo Championship, which took place in Russia, everything was different.
In September of the same year Russia planned Russian-Japanese forum, which was supposed to attend former Prime Minister of Japan Yoshiro Mori (Yoshiro Mori). But then there is information that Putin is unable to arrange a meeting. Then I told Putin: "Former Prime Minister Mori will go to the forum. I would like to meet with you on this occasion. Could you give me time?" Putin replied: "Thou (Mori) coming? I didn't know about it. At this time I will be in Moscow."
It was all good. However, when I said that Prime Minister Abe wants to radically improve relations between Japan and Russia, Putin's face changed. "Abe says one thing and Japan are different," he said.
Most likely, the reason was that Japan was supported by Western economic sanctions imposed in connection with the annexation of Crimea. President Putin unexpectedly said to me: "it makes no sense Now to talk about it. I'll talk to Art when he arrives. It is very good that you are taking part in Russian-Japanese relations." Putin smiled and raised his thumb.
After that, former Prime Minister Mori met with President Putin. As I heard, he explained to the Russian leader that the Japanese sanctions is nothing more than a formality. I'm a key person? This is not so. However, the first time I played a political role. I'm tired of all this. I am the judoka and teacher. But not a politician and not a diplomat. We must not forget about his social status.
I don't understand why President Putin is talking to me. Ask him.
Meanwhile, I acted in the cold war period. My Sensei Cheese of Matsumae, who created the Tokai University in which I work, has always been the enemy of communism, but believed that the relations can not refuse. So when Soviet athletes came to the Tokai University, I talked to them as brothers: we drank vodka, ate black bread and so on. President Putin also communicates with a variety of athletes, so maybe he heard about me good things.
President Putin was a difficult teenager, but he's changed, when I started to do judo. In judo studying his opponent. You must remain calm in any situation. I think he uses the political activities of judo lessons.
In the country of President Putin in Moscow there is a bronze statue of Jigoro Kano (Kano Jigoro, founder of judo — approx. TRANS.). It gave not Japanese, but a political opponent of Putin, who thus wanted to Express his humility. He probably thought that President Putin is more likely to be happy with a bronze statue of Kano.
The ability of President Putin to gather information amazing. For example, when Putin came to Japan in November 2005 for a meeting with Prime Minister Junichiro Koizumi (Koizumi Jyunichiro), he said to me, "Yamashita-San, I heard talking in the area of judo, you want to encourage the North Ossetian judoists who have suffered from acts of terrorism. I Express my gratitude."
I planned to invite North Ossetian judoists to the competition in Japan. But I wanted to do it in a month and did not advertise their activities. How could he know about my plans?
It happened several times. A strong leader subordinates try to present good news.
In March 2012, President Putin used the term "hikiwake", commenting on the problem of "Northern territories". The meaning of these words I do not understand. In judo a strong athlete can aspire to "hikiwake" (draw — approx. ed). Or when their strength is equal, and it is difficult to determine the winner. However, there is no way that the two riders sought to "hikiwake".
Speaking from the point of view of a layman, it seems to me that it would be difficult to find a solution that will satisfy both the Russians and the Japanese. While Russia and Japan are neighbors. This is a different country, so they can complement each other. If our country will be in a good relationship, they can affect the stabilization of the situation in East Asia.
Russia is our neighbour, which is a superpower. Judo can contribute to the emergence of interest in Japan. If judo can play any role that will benefit Japan, you can count on me.
Yasuhiro Yamashita was born in 1957 in Kumamoto Prefecture. Won a gold medal at the Olympics-1984 in Los Angeles. Is a four-time world champion and the ninefold champion of Japan. In 1984 he was awarded the people's honor. Currently holds the post of rector at the University of Tokai. In June of this year topped the all-Japan judo Federation.
Comments
comments