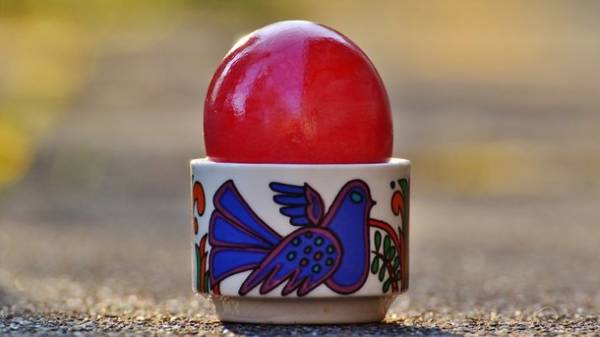 Today is good Friday — the day when Orthodox Christians mourn the crucifixion of Christ. Even if you do not adhere to lent, it is worth while at this moment to refrain from gluttony and trips to restaurants. And if you find the strength to attend night Church service in the night from Saturday to Sunday, believe me — to celebrate Easter you will be really happy and elated.
Besides spiritual food, of course, need to be concerned about the bread — dishes, which you will entertain your family and friends on the day of Christ's Resurrection. I hope that the recipes from our experts — the leading Ukrainian will assist you with this task brilliantly. And Easter this year you are celebrating is really tasteful!
RECIPES FROM ALEXEY SUKHANOV, A LEADING TALK SHOW "TALKING UKRAINE", THE CULINARY ACADEMY ON THE CHANNEL "UKRAINE"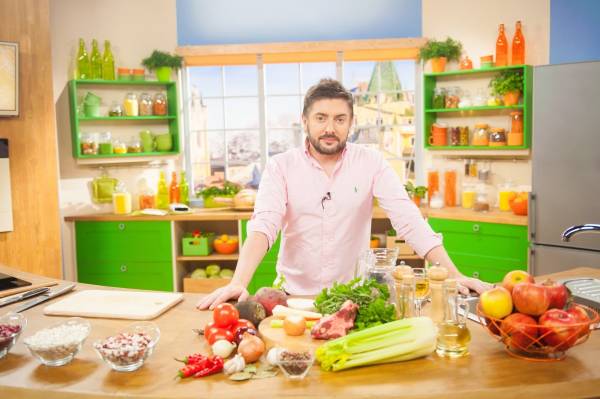 JUICY PORK WITH GARLIC AND CARROTS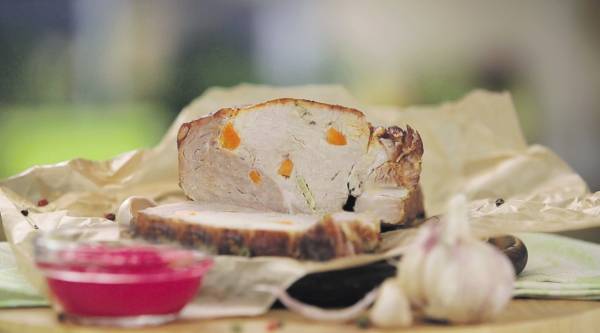 Ingredients (for 6 servings):
Pork loin 1kg
Carrot 1 PC.
Onions 1 PC.
Garlic 3 cloves
Salt and pepper to taste
Parsley 1 bunch
Lemon 1 PCs.
Bay leaf to taste
Sweet paprika ground 1 pkg.
Preparation (2 hours):
My meat. Carefully cut away all the veins. Peel carrots and garlic. Carrots cut on the cone-shaped pieces so they are easily included in the meat. It make the incisions at a distance of 3-5 cm at an angle that the pieces of vegetables fell out. Making sure that they are not too large, otherwise during frying of meat will flow out all the liquid and it will be dry. Nbsphowever a piece of garlic and carrot, sprinkle with salt on all sides, and pepper.
Coarsely chop the carrots and onion rings. Grind the dill and parsley. Staley double layer of foil, put the meat on a bed of greens and vegetables. Top also sprinkle with herbs, crumbled Laurel leaves and turn the foil so that the juices will not escape during baking. Sent in a preheated 180 degree oven for an hour and a half. Check the readiness by scoring a piece with a sharp knife. The pork is served with horseradish and mustard.
CARP WITH VEGETABLES IN THE MARINADE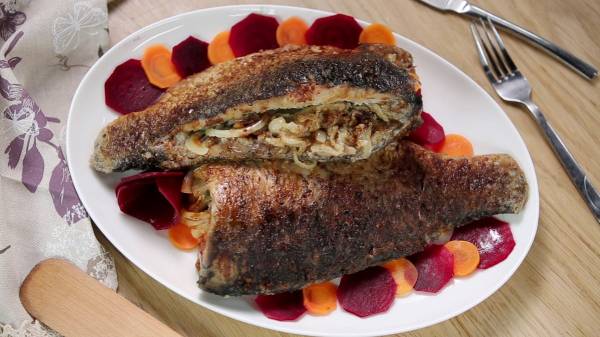 Ingredients (for 4 servings):
Carp 1-1. 5 kg
Soy sauce 50 g
Onions 1 PC.
Olive oil 100 ml
Salt and pepper to taste
Herbes de Provence to taste
Granulated garlic 1 pkg.
Flour 100 g
Dry white wine 150 ml
Carrots 2 PCs.
Beet 2 PCs.
Sugar 2-3 tbsp
Water, vinegar 50 ml
Preparation (50 min):
The fish in grease sauce, spice, stuffed with half rings of onion, sprinkle with a mixture of 100 g of flour, pepper, salt, garlic (1 tsp). Fry under a lid for 10 min. Pour on the bottom of the wine. Cover with a lid and fry for another 10 min. on the other hand. Different pans cook the slices of vegetables by adding sugar and vinegar.
POPPY-COTTAGE CHEESE CAKE "ZEBRA"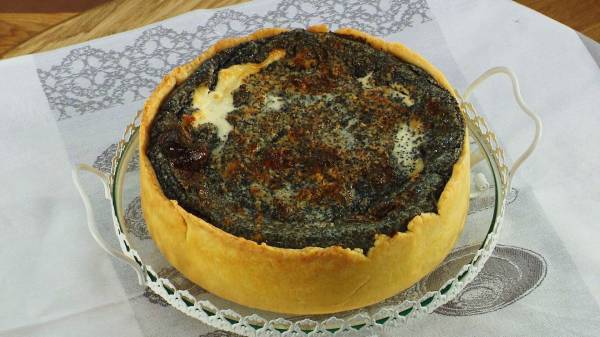 Ingredients (for 6 servings):
For the dough:
Wheat flour 2 tbsp.
Butter 100 g
Salt a pinch
Water 2 tbsp
For the filling:
Milk 2,5% 3 stack.
Sugar 1 Cup.
Butter 100 g
Cottage cheese 9% 250 g
Egg 1 PC.
Ground poppy seeds 1 Cup.
Semolina 1 stack.
Preparation (2 hours):
RUB the butter, add the flour, salt, water. Knead the dough, wrap it in foil and put in the fridge for 10 minutes. In a saucepan, pour milk, add 150 g of sugar, oil, set on fire. Once it boils, injected poppy with semolina, stirring. Remove from heat, allow to infuse for 10 minutes roll out the Dough between layers of parchment, put into the form. In a blender, replace the cottage cheese with egg. A third of the mass lay off and the rest injected into the milk with poppy seeds. In the center of the dough — first mix with poppy seeds, and top with cheese. And so we spread all the stuffing. Shake that it is dispersed. Put the tart in a preheated 180 °C oven for an hour.
EASTER LOAF WITH CHEESE AND MEAT DELICACIES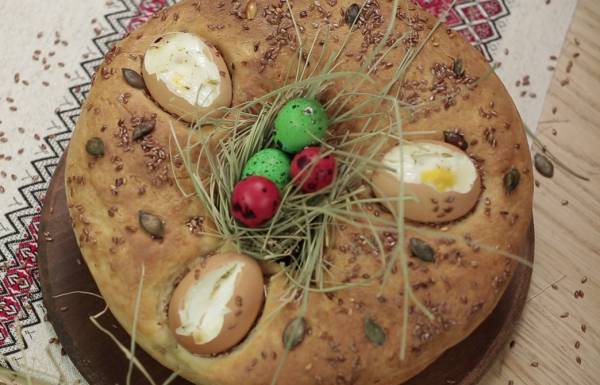 Ingredients (8 servings):
For the dough:
Milk 600 ml
Dry yeast 5 g
Flour 600 g
Lard (pork fat) 120 g
Salt 8 g
Sugar 7 g
Ground black pepper to taste
For the filling:
Eggs (brown shell) 5 PCs.
Feta cheese 100 g
Sausage or salami 100 g
Ham 100 g
Seeds of flax, pumpkin or hemp seeds to taste
Preparation (3 hours):
Mix in a bowl the flour and lard. Fray hands. Add the yeast. Again triturated.
Heat the milk to room temperature. Not more than 35 degrees. Dissolve salt in milk.
Never mix together salt and yeast, otherwise the dough won't rise!
Add milk, if necessary, more flour. Knead the dough. It should be nerijim, homogeneous and does not stick to hands. Take and tie him, if it is not torn and stretches evenly throughout the length, so it is well mixed.
Grease a bowl with vegetable oil, form a ball of dough. The top of the dough is also greased with oil. Cover with cling film and leave to rise at room temperature 1-1. 5 hours. During this time the dough should rise two times.
Cut into cubes, meat filling and cheese. You can use any other ingredients that appeal to you heart. Roll the dough into a rectangular layer of thickness 0,5—1 cm Put the middle of the stuffing. Twist in a roll. Put it in a round mold for muffins, pre-lubricated it with vegetable oil. Connecting edge.
On top lay the washed raw eggs, slightly pressing them into the dough.
Lubricated with water or milk to the eggs and dough. Sprinkle with flax seeds, pumpkin or hemp seeds. Leave the loaf to rise for 40 minutes. Bake at 200 degrees for 45-50 minutes.
RECIPE FROM OLGA SUMY, ACTRESS, LEADING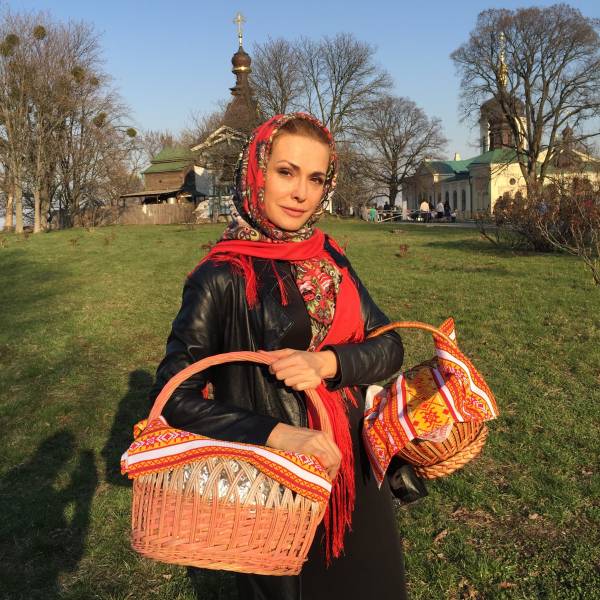 CASSEROLE "TENDER PLEASURE"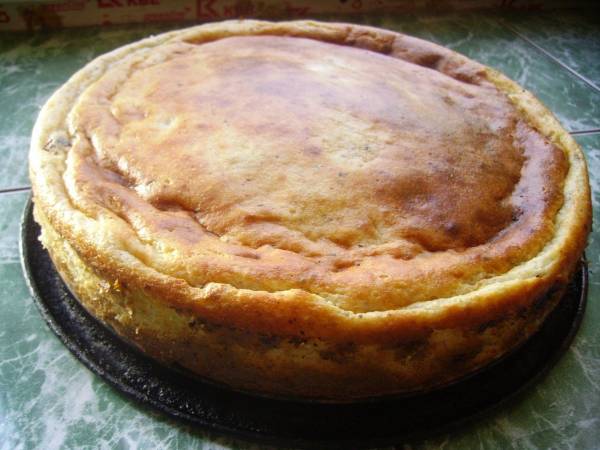 Ingredients (for 4 servings):
Fat cottage cheese 800 g
Granulated sugar 3-4 tbsp
Eggs 5-6 pieces.
Raisins 50 g
Vanilla sugar 1 p.
Butter (or olive) oil 2-3 tbsp
Heavy cream 0.5 Cup.
Preparation (1 hour):
Cheese beat eggs and add vanilla sugar. Stir it carefully. Then add the sugar and put the raisins. Knead well. Glass form grease with butter or olive oil. Put the resulting mass into the form and cover it. We put on 30-40 minutes in the oven, pre-heating it to a temperature of 150 °C. For 5-10 minutes until cooked open the lid. Grease a casserole with thick cream, sprinkle sugar on top and place into the oven. But it does not cover the saucepan to form a Golden crust. Take out and cover again it is important that casserole let the juice. It turns out incredibly tasty and can become the center of the Easter table!
RECIPE FROM ANNA PANOVA, A LEADING NEWS PROGRAM "TODAY" ON THE CHANNEL "UKRAINE"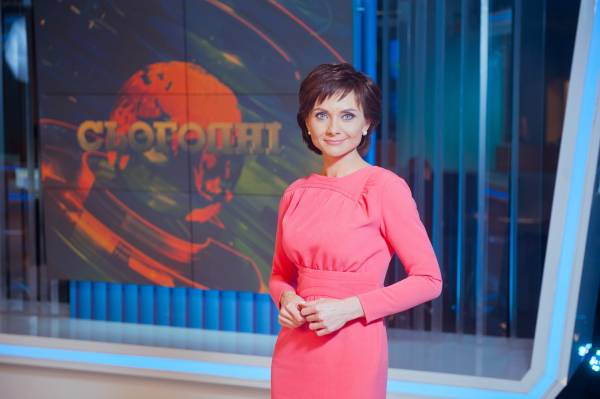 CARROT CUPCAKE WITH LEMON CREAM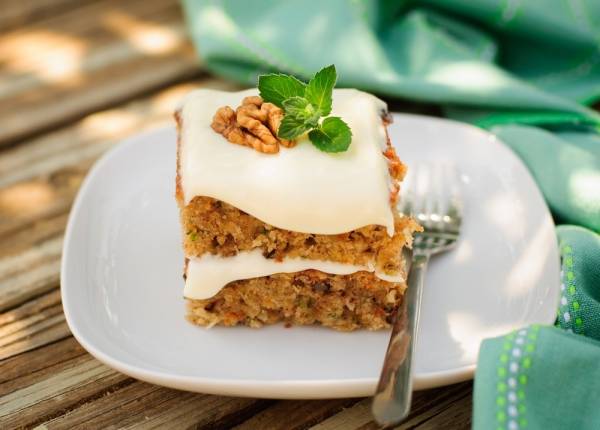 Ingredients (for 4 servings):
For the dough:
Eggs 2 PCs.
Sugar 0.5 Cup.
Carrots 2 PCs.
Walnuts-a large handful
Flour 1 Cup.
Baking powder 1 tsp.
Olive oil 2-3 tbsp
For the cream:
Sour cream 200 g
Sugar 0.5 Cup.
Lemon half
Preparation (1 hour):
Well whisk the eggs with the sugar (half Cup). On a fine grater grate two large carrots. Grind (break into small pieces) walnuts (pre-fry). Then all these ingredients stir gently. After you add the flour (sift it through a sieve, until the dough is more airy) and baking powder. Pour in the dough with olive oil and stir again. Bake 40 minutes in the oven at 180 degrees.
Meanwhile, prepare the cream. To do this, whisk the cream and sugar (half a Cup). Puree them in a blender with half of the lemon and add to the mixture. When the cake is ready, cut it in half and generously impregnate cream.
RECIPE STUFFED DUCK FROM SVETLANA KATRENKO, THE LEADING PROGRAM "RANOK Z WITH UKRAINE" ON THE CHANNEL "UKRAINE"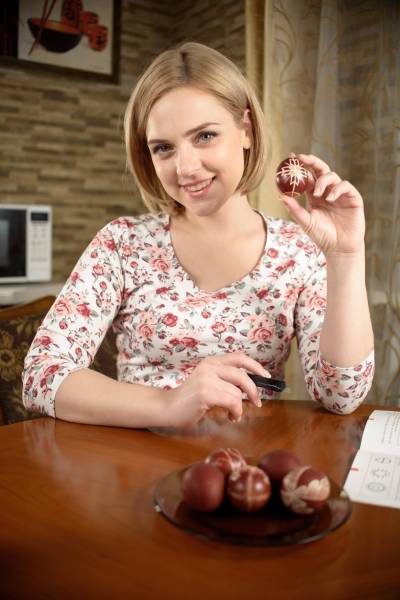 DUCK STUFFED WITH FRUIT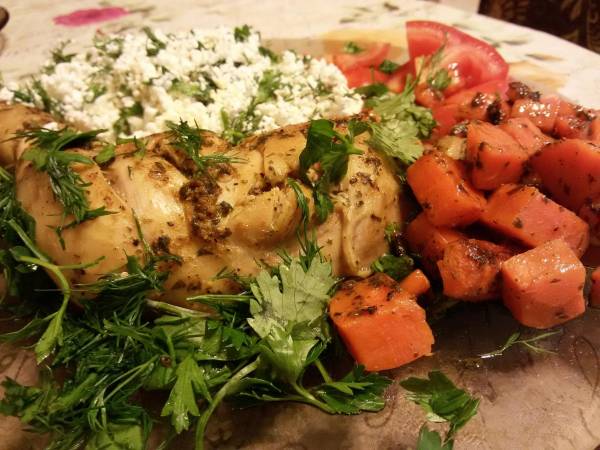 Ingredients (for 6 servings):
1 duck carcass
Salt and pepper to taste
Mustard 2-3 tbsp.
Lemon juice 1 tbsp
Filling (apples, oranges, etc.) to taste
Preparation (4 hours):
Before roasting the duck needs to marinate. To do this, thoroughly wash them under water and then remove excess moisture, such as plain napkins. So it will be easier to RUB the spices and the marinade will be absorbed much better. In a small bowl mix salt, pepper and a little mustard with lemon juice. The resulting mixture evenly with a special brush or with your hands on a duck and leave to marinate in the refrigerator for 30 minutes — 1 hour.
Meanwhile, prepare the filling of apples, oranges. Oranges is better to cut the white skin — it's bitter. Apples are cleaned, cut with salt, sprinkle with spices to taste and the stuffing is ready.
After a time stuffed with a duck, wrap it up it with foil and send in a well heated oven to simmer for 1.5—2 hours (depending on size). When the time comes, remove the foil and leave our bird in the oven for another 30 minutes until a beautiful Golden brown. To do this, it is better periodically to pour her own juice, which is in the process of roasting will be very much.
In this dish, the main task — do not rush, then the duck will be tender and gentle. Serve it with vegetables, fruit or any other garnish.
Comments
comments