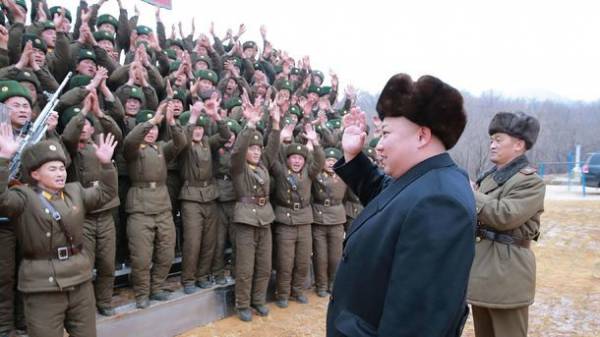 In case of a military threat from the United States, the North Koreans are ready to hit various military targets Americans near the Korean Peninsula, and also at the base in Japan and the aircraft carrier. This is stated in the statement of the representative of the General staff of the Korean people's army, reports "RIA Novosti".
The General staff of North Korea indicate that the blows are inflicted on land, sea and air.
"All political, economic and military provocative machinations are strongly disrupted by the heavy duty response on the part of our army and people. As possible objects to hit called U.S. military bases in Osan, Kunsan, and Pyeongtaek, and the presidential residence, "Cheong WA Dae", which the General staff of the kPa threatens "to turn to ashes in a matter of minutes," – said in a statement.
In addition, the North Korean military has threatened to strike at the U.S. base, which is located in Japan and even the United States. Also, the threat of destruction hung over us aircraft carrier "Carl Vinson", which has already arrived in the area of the Korean Peninsula.
As reported, the U.S. is ready to launch a preemptive strike on the DPRKif they noticed signs of preparations for nuclear testing. As stated by officials in the us intelligence community, the United States deployed two destroyers equipped with cruise missiles "Tomahawk", the officials said. One of the warships, as noted, is less than 500 km from the site for nuclear tests of the DPRK.
In turn, the Deputy head of the Ministry of foreign Affairs of the DPRK Han Fir said that the military leadership of North Korea ready for war with the Americans.
Comments
comments