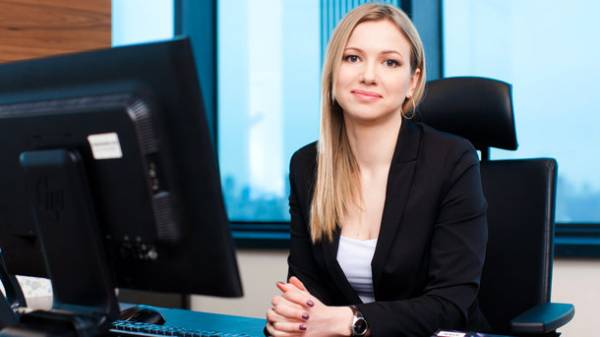 The first woman head of a wind energy company in Ukraine. Stood at the origins of the company's wind Power, which includes the largest wind farm in the country – Botievo WPP. In 2016, Victoria led the wind Power today is engaged in active implementation of new projects in "green" energy DTEK. Loves spending time with family, trips to nature, books and travel

– Who or what inspires you? Why?
I am a happy person because I have many sources of inspiration. The main one is people. People who are near me that are for me example of their life history, achievements, strength, wisdom, faith. There are many such people, and not only on a global scale or a single country, but also those who are directly around me – colleagues, friends, acquaintances, partners in business. The most important source of inspiration is my family and the time that I spend with loved ones. This and the little joys that elevate mood and boost energy, for example, trips in nature, trips to museums, galleries, visual art.
– How do you "reboot"? that helps you find strength?
First of all, to myself to give the command "reboot". Without switching, it is impossible to keep up with the pace, rhythm and tension of modern life. As I spend more time "within four walls", sometimes you feel almost a physical need to be in nature. Are traveling out of town for the weekend.
Read the whole interview with the heroines of the project SCM.She
– How to do everything: is there a balance between career and personal life? How to find and keep?
There is no universal recipe, but I can share two tips. First, to accomplish more, you need to do more: "the large number of balls to juggle, the higher the skill". Second, sometimes give yourself a little slack. If something fails, it should not be too hard on myself and focus on what's better.
A good assistant to achieve balance between work and personal life is planning. Now a lot of tools that help in this. Need to find a suitable and comfortable for you, and use it. For me these are Outlook and diary. The modern world is so dynamic and full of events that without the help of planning tools is not enough.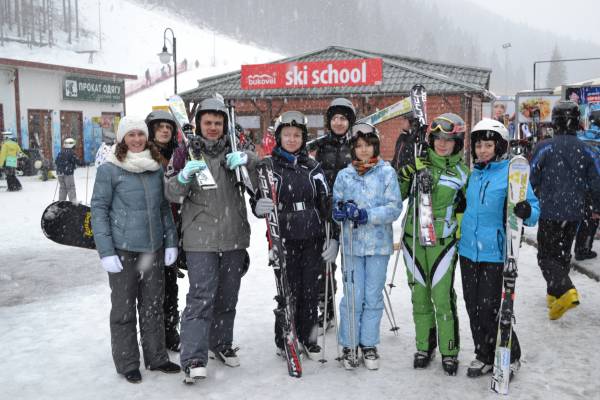 With colleagues and ride on the slopes
– What career achievement are you most proud of?
I am more proud of the results achieved, than career success. A career is just a tool to get more ambitious, exciting and inspiring challenge. When you take over such tasks, we first have a sense of "this is something intractable, you can't." But then, when overcome difficulties and get a great result, there is a heady sense of excitement, pride and pleasure.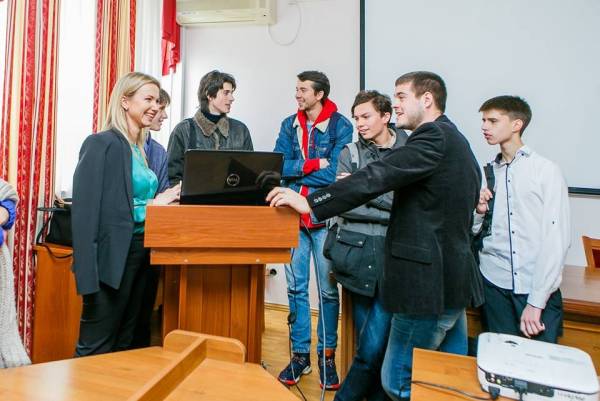 Live discussion with students of KNU. T. G. Shevchenko
– What childhood dreams have you fulfilled in life?
In childhood, like many girls, I dreamed of becoming an actress. And although the actress did not become, today, in a profession increasingly requires public speaking skills. This ability to engage the audience, to motivate, to convey their thoughts and sometimes even emotions. Today I have many opportunities to practice these skills. So little by little this dream come true albeit in a slightly different sense.
– What we have not asked you, but You would like about it have to tell?
In an interview there were questions about career, balance, achievements. Of course, all this is important, but only as a part of what makes us happy. I 100% agree with the statement that happiness is not a result but a process. Need to train the ability to be in harmony with itself, to rejoice and be happy, despite the sometimes bad days. On the one hand, harmony, and satisfaction is the result of what we do, our relationships with people on the other is the source. When we are in harmony with ourselves, then we transmit these feelings to others, charged with energy and inspired. Thus, the number of people who have the soul to a greater extent "singing than crying" is growing. I wish for everyone to live in harmony and be happy!
Office of DTEK. 26 floor. Stunning view from the window is another source of inspiration
A SHORT INTERVIEW
1. How would You describe yourself in one word?
Stayer (athlete-runner on long distances)
2. The three books are a must read?
In childhood or adolescence: Harper Lee's "to Kill a Mockingbird". It contains great lessons of strength and humanity.
In adulthood: the dystopia of George Orwell's "1984", as a measure of acceptability of what is happening and global risks.
Motivational Stephen Covey of "7 habits of highly effective people".
3. What would You learn in the next 3 years?
Leadership
4. Meeting or Facebook?
Meeting
5. Book or movie?
Of course the book!
6. Owl or lark?
Dove
7. Coffee or fresh?
Tea
8. Brunette or blond?
Brunette, but her husband – blonde
9. Jeans or skirt?
Jeans
10. Heels or comfortable shoes to go low?
Comfortable shoes
Comments
comments