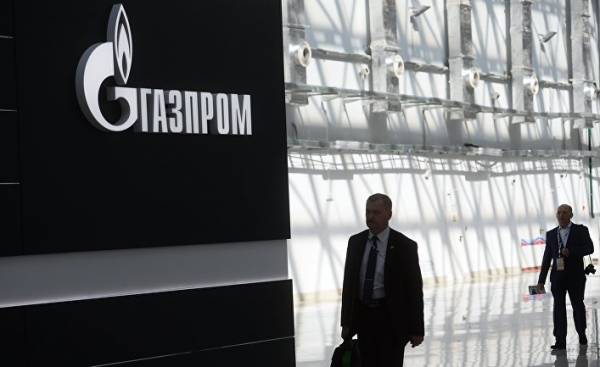 A Kremlin-controlled Russian energy giant Gazprom revealed how much it is paying to Uzbekistan for gas in the framework of the recently signed five-year contract. And the price is very modest.
Gazprom daughter company "Gazprom export" — will pay a total of $ 2.5 billion in the five-year contract, deliveries for which will begin in 2018, and according to which Uzbekistan will supply 4 billion cubic meters of gas annually. Thus, the price per 1 thousand cubic meters will be only $ 125.
This deal was concluded earlier this month and has a relatively long life — long enough to become for Tashkent reliable source of funds in tough times, but not so long to be permanent. Especially when you consider that Gazprom used to sign the Central Asian contracts for decades, not years.
The deal further underlines the gradual loss of Russia's status as a major buyer of energy in Central Asia. Gazprom until 2016 bought from Uzbekistan 6.2 billion cubic meters of blue fuel, in this year, the company will acquire all of the 5 billion cubic meters, and next year volumes, according to the contract, will fall to 4 billion per year.
In addition, Gazprom has recently confirmed that he did not intend to resume gas imports from Turkmenistan.
But then the question arises why companies all buy in the region of the gas if it is full your. Briefly and clearly this question was answered by the partner of RusEnergy Mikhail Krutikhin in an interview with The New Times.
"Gazprom is implementing the gas from Uzbekistan in the southern regions of Kazakhstan, and in return receives at the Kazakh-Russian border in the North of feedstock for its gas processing plant in Orenburg. The company is highly dependent on these foreign supplies that amount to an average of 8 billion cubic meters per year, equivalent circuit, in which the supply is partly provided with gas from Uzbekistan, remains in force, although the Kazakhs gradually establish supply its southern regions with their own gas, making imports from Uzbekistan are not as critical as it is now," he said.
Krutikhin, for obvious reasons, looks at the issue from the point of view of Russia, and discusses the effects of a possible exit of Kazakhstan on full self-maintenance with gas from this angle. "At issue will be the survival of the Orenburg plant," he added.
But for Uzbekistan such a turn of events would be very bad news, because he, like Turkmenistan, will be virtually no longer sell gas, except for China.
On the other hand, Uzbekistan does not have enough gas to cover domestic needs and as a result thousands of families left without natural gas during the winter months. A gradual transition to a market economy in the domestic market promises more benefits than any deal with Gazprom, but for this we need to raise the level of income of Uzbek families, so they can pay the bills of gas, but otherwise not to avoid deep and dangerous discontent.
Gazprom has worked in Uzbekistan for a long time.
In 2002, it signed a strategic agreement with Uzbekneftegaz on production of gas in Uzbekistan on conditions of section of production (SRP). Now this agreement is beginning to bear fruit.
In 2004, Gazprom began the exploitation of deposits "Shakhpakhty", also on production-sharing terms. In 2004-2010, the field was extracted 1.5 billion cubic meters of gas per year.
In 2006, Uzbekneftegaz and Gazprom signed a deal on joint exploration in the Ustyurt plateau. It is assumed that in the bowels of the plateau lies 120 billion cubic meters of gas. The Uzbekneftegaz issued Gazprom licenses for exploration work in seven blocks. The volume of investments of Russian companies in the framework of this project was to make 400 million dollars.
A real breakthrough in relations occurred in 2009, when on the Ustyurt plateau was discovered gas Deposit "JAL". There was also supposed to begin production on production-sharing terms, but specific information yet.
The above-mentioned field "Shakhpakhty" and "JAL" is located in remote desert areas in the West of Uzbekistan.
In February of this year, the head of Uzbekneftegaz Alisher Sultanov announced plans to sign with Gazprom a contract on another investment block "o Mustaqilligi" in Surkhandarya region.
"Now preparing the document. To sign a PSA we plan in the upcoming April visit of the President of Uzbekistan to Russia," Sultanov said.
The head of Uzbekneftegaz has acknowledged that the implementation of the project will be difficult.
"This mine is not simple, it is complicated by the Geology and composition of the gas," he said.
And the agreement was indeed signed during the visit of the President Shavkat Mirziyoyev in Moscow, although specific details have not yet been published. But the deal stipulates construction of a gas refinery near the field, and it means that "Gazprom" has undertaken to invest in this project is very high.
Thus, although Gazprom refuses to major purchases of gas in Uzbekistan, the company does, however, clearly sees sense to invest in the extraction and processing of energy resources in the region.
Comments
comments