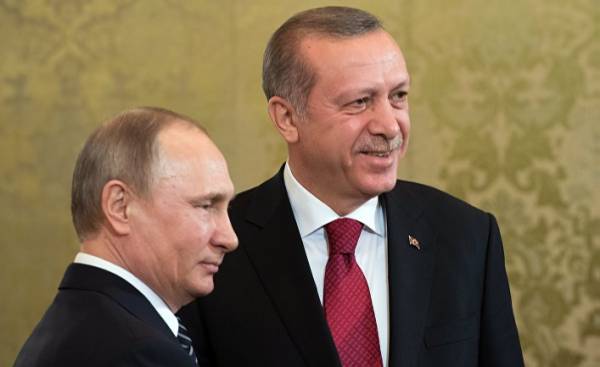 Problems that, as anticipated in the first moment after which lasted eight months "airplane crisis" in relations between Russia and Turkey was settled, once again began to float to the surface because of colliding interests.
A new response to the Russian "wheat ban" Turkey was the statement about a possible ban on Charter flights. The newspaper "Kommersant", which is published in Moscow, recalled that to date, about 400 thousand Russian tourists have bought tours to Turkey, and at the end of this summer season, it was expected that Turkish beaches are visited by about three million Russian citizens. In a telegram sent to the Federal air transport Agency by the Russian airlines, it was reported that Charter flights may be permitted in connection with political events in Turkey.
In fact, "the threat of a ban was" not related situation in Turkey, writes, in fact, "Kommersant". The fact that Turkey, entering duty on Russian wheat, went on a ban on the practice, and recently supported a missile strike by US on Syria — events that are extremely angered Moscow. In a similar way, the newspaper "Moskovsky Komsomolets" commented: "Although the reason attention is drawn to the difficult domestic political situation in Turkey, Russia in fact is trying to stop Erdogan to join the camp of the tramp". Another reason for a sharp reaction of Russia in response to Turkey's support of a U.S. strike on Syria is that Ankara is among the three guarantors of the truce in Syria.
And wheat ban Turkey appeared on the agenda due to the fact that the Russians had not agreed on the number of steps on many issues, first of all, the ban on the import of Turkish fresh fruits and vegetables to Russia, despite the fact that after the "airplane crisis", Ankara has largely met the expectations of Moscow in different spheres (Syria, "Turkish stream", NPP "Akkuyu").
However, there is a likelihood that upon reaching a certain consensus process which started to turn into a showdown that may come to an end. In the coming days, the parties sit down at the negotiating table on wheat ban, which is detrimental to Russia. And prior to those talks, Moscow is trying to put pressure on Ankara, showing the "stick" in the form of prohibition of the Charter.
Comments
comments