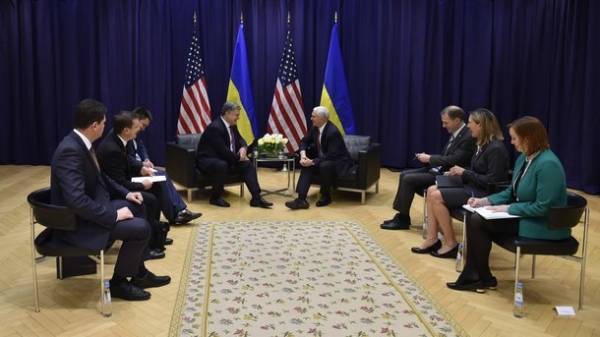 The White house announced that the President of Ukraine Petro Poroshenko and Vice-President of the United States Michael Pence discussed possible areas of support for peace negotiations in the Donbas from the United States.
"The Vice President noted the support from the United States at full implementation of Minsk agreements with the aim of establishing peace in Eastern Ukraine, the leaders also discussed how the United States can support negotiations", – stated in a press release, the White House following the meeting, Poroshenko and Pence in Munich on Saturday.
Pence expressed concern about a recent upsurge in violence in Eastern Ukraine. "Also, the leaders agreed on the need for immediate and comprehensive ceasefire. The Vice President noted the support by the US of Ukraine's sovereignty, territorial integrity and self-determination, and stressed that the United States does not recognize the occupation and attempted annexation of Crimea by Russia," – said in a press release.
The Vice-President also praised Ukraine's progress in reforms.
Poroshenko and Pence noted the importance of further reforms with the goal of turning Ukraine into a safe, prosperous, European country for all its citizens.
Comments
comments