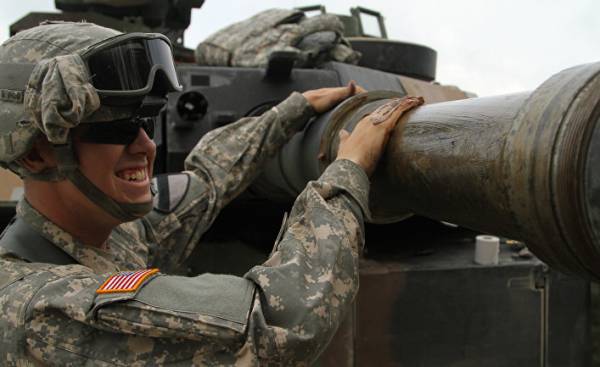 Geographical proximity to Russia makes the countries of Eastern Europe to increase their defence budgets at a time when the President of the United States Donald trump is sending signals that U.S. military support will depend on how much the country spends in the framework of NATO. This writes Bloomberg, adding that Romania, Lithuania and Latvia, mindful of their land and sea borders with the former Soviet patron, has shown significant success in increasing spending on defense last year.
Other "frontline" countries such as Estonia and Poland, is also spent on the army is more in comparison with their Western allies. They have met or even exceeded the norm of NATO, which demands that the country was isolated in the army 2% of its GDP. The expert of the International centre for defence and security Tony Lawrence told the publication that are most vulnerable to the Russian threat of the country "are more willing to increase defence budgets".
"The trump, though more aggressive, but it is a long and not entirely unfair the us lament the fact that the European allies did not make their proper contribution," — said the expert. Eastern Europe shook the Russian annexation of the Ukrainian Peninsula of Crimea. The election trump's words that the US can not come to the aid of those countries that don't spend enough on defense, also in the region are not forgotten. Meanwhile, relations between Russia and the Baltic countries remain cold due to the Russian attempts to undermine stability in the region, although Moscow denies trying to hurt the neighbors.
In turn, Hungary, which has developed a good relationship with Putin, now spends less on defense. The publication writes that in Lithuania, which borders with the Kaliningrad region, saying that trump is right when he scolds Europe for underfunding the military. The Vilnius is going to increase the defence budget to 2.5% of GDP by 2020. The publication notes that countries still need to increase these costs faster than they grow their economies. For example, Germany has increased spending on the army to 2.7 billion euros. It's more than the combined military budget of Estonia, Lithuania and Latvia.
But at the same time, Berlin has spent only 1.2% of GDP. Read also: Stoltenberg urged countries-NATO members to increase defense spending, Meanwhile, NATO has completed the deployment of a battalion in Estonia. About 1,200 troops from Britain and France settled in the garrison town of Tapa is 80 km South-East from the Estonian capital city of Tallinn and 150 km from the border with Russia.
Recall that at the NATO summit in Warsaw in July 2016 it was also decided to place four battalions in Poland, Lithuania, Latvia and Estonia to 2017. Germany leads the battalion in Lithuania, USA, Poland, UK, Estonia, and Canadians in Latvia.
Comments
comments