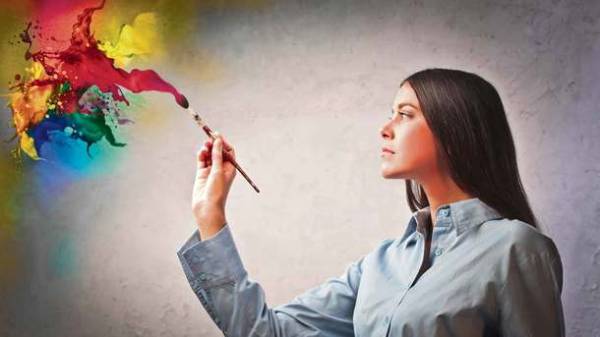 Dislike part and rules and the ability to follow their dream step by step. Faith in his gift and willingness to accept failure. Childlike and aesthetic taste for the beautiful. What else distinguishes the creative people? On the pages of the publication psychologies.ru psychologists have called 10 traits of the creative person, writes psychologies.ru.
Easel and paint, scribbled notebook or bust guitar strings are not mandatory attributes of a creative person. You can be to them and to do science or to work in the Bank. And among the representatives of the art community often you can find people completely devoid of imagination. What really distinguishes people with a creative streak?
1. YOU RESPONSIBLY IRRESPONSIBLE
You do not limit their lives within the rules and stereotypes and is capable of much: to pass interview successfully for the position of the dreams for which you have insufficient experience to make a stunning dinner for friends, when the purse sparsely or so to repair a flat on their own, what professional designer would die from envy.
2. YOU CAN SEE THE DIFFERENCE BETWEEN THE REAL AND THE IMAGINARY
Don't you just love to dream about how to make the world better, but also bring fantasy into reality, evaluating own capabilities and knowing what results can be achieved in the proposed circumstances.
3. ALL THE EMOTIONS WRITTEN ON YOUR FACE
Creative people are able to experience like a sharp pain and bliss. They are not afraid of any negative or positive experiences. Friends and family immediately read their emotions because they are not afraid to live them fully.
4. YOU BELIEVE IN YOUR GIFT
You can recognize that this time surpassed himself, but does not hang the label of mediocrity and will not allow to others. It is well know that sometimes the idea and realization are not the same. Well, you try again.
5. YOU ARE OBSERVANT
The world is a big party where you can hear the most amazing stories, and each guest has become the hero of the adventure novel. You don't need a pencil to record observations in your memory they will remain better.
6. YOU ARE WAITING FOR A FAVORABLE WIND, YOU CREATE IT YOURSELF
You hate stagnation. Routine, drab, everyday responsibilities present in your life, but as soon as you begin to choke, you find a way to get fresh impressions and new acquaintances.
7. YOU KNOW HOW TO ACHIEVE FAILURE
When things don't go as you wanted, would you take it as a valuable experience, useful for further development. Creative personality able to use their failures to their advantage.
8. YOU RUN THE RISK OF
You do not succumb to life's challenges. Have a creative attitude to life can be a lot of side effects: imperfect reputation, the years spent on steps in the wrong direction, the money had gone nowhere. But it's worth it.
9. YOU SURROUND YOURSELF WITH BEAUTY
Most creative people are aesthetes. Creative nature easy to guess for the interior, manner of dress, even in swirly handwriting.
10. YOU FOLLOW A DREAM
Creative people are restless in regards to the passion of their lives. They don't measure their progress with someone else's yardstick and are not ready to write yourself off because of age, lack of money or fatigue. No matter how many fans you have and awards. Significantly only one thing: do you have a favorite thing.
Comments
comments