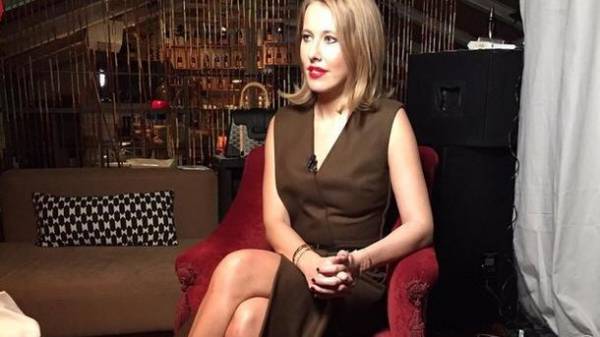 Russian TV presenter Ksenia Sobchak criticized Russian President Vladimir Putin and his intelligence agencies, which pay more attention to acceleration, mitengo, instead of fighting terrorism. She told about it on air of TV channel "Rain".
According to the presenter, her family almost was at the epicenter of the explosion in the subway of St. Petersburg.
"In the day of the attack in the St. Petersburg subway you were in your hometown, and the attack — planned or not — it happened literally right "under the nose". Not too close, of course, as the murder of Nemtsov, but still close. In this moment you were excited about talking with your Belarusian colleague Alexander Lukashenko. Perhaps, sharing experience on how to disperse youth demonstrations, they have a fashionable water-cannons, and you have not yet. But at the same time, my aunt, my mother's sister, was 40 metres under the ground, in the same stretch of metro. 10 minutes after the train has passed "Technologico", the bomb exploded. Only ten minutes separated my family from the great human tragedy", – said Sobchak.
She pointed out to Putin that the attack was committed at his house, so she was surprised how the Russian special services could not prevent.
"Why did this happen in your city where you are literally personally know all the senior officers of the FSB? A few days ago I and my colleague discussed worldwide terrorist attacks, London bombings, Paris shootings, a wave of violence rolls on all sides, and parted around Peter. Because to encroach on Peter is to encroach on Russia, for your years of presidency. They committed mass murder at home. You height with the Kremlin watching some KGB boys eat other, make friends with the businessman Mikhalchenko, almost finished with the interior Ministry, and only the departments of "e" to fight with bloggers and crazy city intact and grow in the country", – said Sobchak.
TV presenter complains that Russian special services do not do so: caught by social activists is the fight against terrorism.
"Can be, or else I would have missed the About Jalilova (the alleged perpetrator of the attack. – Ed.) who lived in your town for six years, sculpted the land and involved in radical groups in "Vkontakte". However, "down with Putin," he wrote, so it did not pay attention?" – said Sobchak.
Recall, April 3, in the subway in Saint Petersburg on the stretch between metro stations "Sennaya square" and "Institute of Technology" explosion. Another explosive device was discovered and defused at the station "Ploschad Vosstaniya".
According to the latest data, as a result of the terrorist attack in the subway of Saint-Petersburg , 14 people were killed, and the total number of victims is 51 people.
Comments
comments