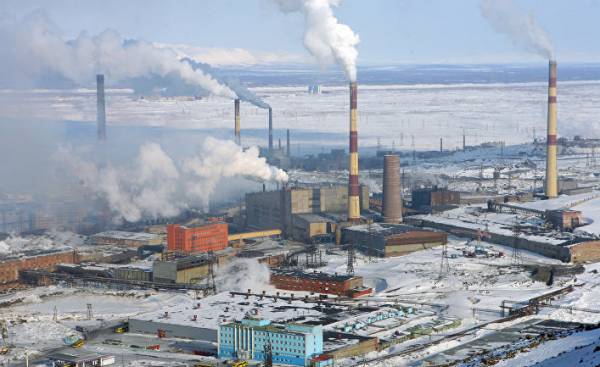 Since the late 1990s, years Norway tried to influence the Russian authorities and Norilsk Nickel, to get them to reduce the environmental pollution.
The briquetting plant in Zapolyarny and the smelter in Nikel emit about 100 thousand tons of sulfur dioxide a year. This is five times greater than Norwegian emissions of sulphur dioxide. Both companies are located only a few kilometers from the Norwegian border in the valley of the river Pasvik (Pasvikdalen).
Now the Russian foreign Minister Sergei Lavrov confirmed that the industrial group is planning to make investments in modern technology in the production of the Nickel.
We should not rejoice in advance
"This is a positive signal," — said lecturer at the Norwegian Arctic University, the University of tromsø and researcher on campus Kirkenes Peter Haugseth (Peter Haugseth).
But he's not going to open the champagne before you see concrete results.
"Given the long history of heavy industry in Russia, modernization of the enterprise in Nickel — very good signal," says Haugseth.
The foreign Ministers discussed the Nickel
Question on the harmful emissions of Nickel was raised during the talks of Minister of foreign Affairs børge Brende and his Russian counterpart Sergei Lavrov in Arkhangelsk on Wednesday last week.
The Ministry of foreign Affairs has confirmed in conversation with NRK that Lavrov briefed about the planned investments of the concern "Norilsk Nickel" in the enterprise in the Nickel.
Some positive signals
Chipset, which has long grappled with the issue of emissions from Nickel — a cautious optimist.
"It fits in with other positive signals received from the meeting in Arkhangelsk, and confirms that the current intensification of the dialogue between Norway and Russia. Because before that there were some problems," says Peter Haugseth.
To restore order promised before
But the Russian authorities and the management of "Norilsk Nickel" promise to do away with dangerous emissions of sulphur and heavy metals from Nikel has for the first time. These emissions pollute the environment not only in Russia but also on the Norwegian side of the border.
— If Lavrov stated this at a meeting with the Norwegian Minister of foreign Affairs, does this mean that the current modernization plans — seriously?
"We have to be careful in his statements. However, President Putin also said earlier that it is necessary to pay more attention to the environment, and that this is related to the Russian Arctic," says scientist Peter Haugseth.
Comments
comments