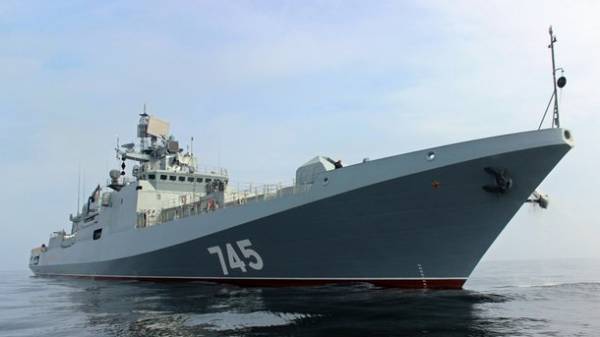 Russia has deployed a frigate of the black sea fleet "Admiral Grigorovich" in the Mediterranean sea. It is reported RIA Novosti with reference to the head of Department of information support of the black sea fleet captain first rank Vyacheslav Trukhacheva.
"Today the black sea fleet frigate "Admiral Grigorovich" under the command of captain third rank Anatoly Velichko joined the permanent connection of the Navy (Navy) in the Mediterranean sea", – stated in the message.
It is also noted that in the period from 3 to 5 April, Admiral Grigorovich, was a ship-owner during the informal visit of a group of ships of the Turkish Navy in Novorossiysk, and took part in bilateral Russian-Turkish naval exercises PASSEX type.
"Admiral Grigorovich" armed with cruise missiles Kalibr-NK missile system-defense Shtil-1, gun mount A-190 100 mm caliber, anti-aircraft artillery, jet bomb installation, torpedoes. It can carry a carrier-based helicopter Ka-27 and Ka-31.
We will remind, the day before Russia started to urgently transfer warships to the coast of Syria. This is due to the rocket attack USA, which was destroyed by a military airfield in Shayrat, Syria.
Comments
comments