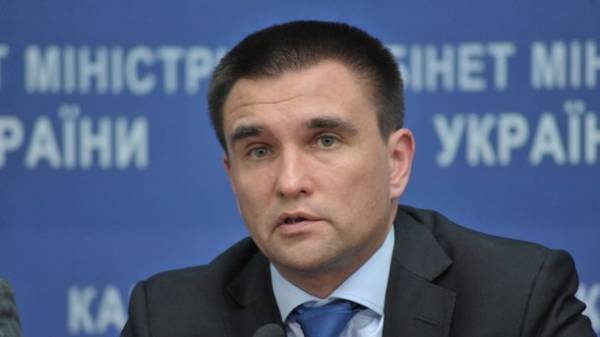 Foreign Minister Pavlo Klimkin said that it is too early to rejoice in the decision of the European Parliament for visa-free regime for Ukraine, as finally adopted by the Council of the EU may be delayed and take place in about 1.5-2 months. He stated this on the sidelines of the Kiev security forum, reports 112.ua.
According to him, the decision of the European Parliament is a very good result.
"Europe, whatever it was, classic, conservative, liberal, don't just gets used to it, and shows, and the result is 521 voice. This is a very good result. This is for me personally, if you want emotionally is also very important," – said the Minister.
Klimkin noted that the final statement "bezveze" could be delayed, however, in summer, Ukraine should become a visa-free.
"Now we will work on a technical side. Because, knowing the EU, I can say that he will need 1.5-2 months for accurate decision making. Will now gather the permanent representatives, then it will be the final decision of the EU Council. But I will, although it does a very important moment for me personally, I will celebrate when the first day is when the Ukrainians with biometric passports for the first time will enter the EU. This is really a day when we truly celebrate. Summer should be visa-free. When is the first day, then we will not just be happy let's celebrate. This is a very important decision. This decision is important for us, for all Ukrainians, the EU, and this decision is important to us together", – said the head of the foreign Ministry of Ukraine.
As you know, today the European Parliament voted for granting Ukraine visa-free regime. This decision was supported 521 MEP.
In turn, the President of Ukraine Petro Poroshenko declared that while early to rejoice to the decision of Europe. According to him, today's decision of the European Parliament does not mean open borders.
Now the decision of the European Parliament will have to approve the EU Council on 26 April, then in may, a ceremony of signing the document. After all these procedures the decision will be published in the official journal of the European Union and after 20 days "bezviz" for Ukraine will take effect. Tentatively it will be in June.
Comments
comments