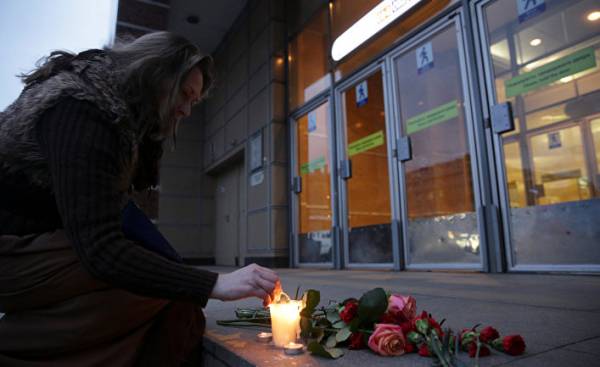 There is scarcely any form of terrorist attacks that would have happened in Russia in recent years.
The saddest thing is that, it seems that the explosions in St. Petersburg will not be the last.
After the air raids in Syria, Russia has become an important target for ISIS (a terrorist organization banned in Russia — approx. ed.).
The incident in St. Petersburg seemed painfully familiar to many Russian. They saw before.
The mangled subway car, the smoky arches of the stations and crossings, wounded, carried away.
Multi-million city on the other side of the Baltic sea in terror, and Yes, most signs points to the fact of what happened is a terrorist attack.
It was St. Petersburg was the destination of that Russian Charter plane flying from Sharm El Sheikh, which exploded over the Sinai Peninsula in October 2015. At the time, killed 219 Russian.
Russian planes exploded in the air before the bombs detonated in the Moscow metro and in the arrivals hall of Domodedovo airport. The bloody hostage drama played out in schools, hospitals, theatres.
Russia has experienced everything, even in recent years there has become calmer. Previously, terrorism was often associated with the Caucasus and the protracted conflict in Chechnya.
In recent years, however, terrorist attacks in Russia are most often associated with ISIS and the Russian campaign in Syria. Russia — a close ally Syrian President Bashar al-Assad and Russian bombs took countless lives in cities like Aleppo.
ISIS has repeatedly threatened Russia with attacks. Two men who attacked a police station in Moscow region in August last year, swore allegiance to ISIS. Both were killed in the attack.
Russian President Vladimir Putin was in St. Petersburg, when at the station "Sennaya Ploschad" an explosion was heard. But he was a few miles away. Maybe it's just a coincidence that the attack occurred at a time when the President was in town, and maybe not.
In any case, the high risk that Russia will again face terrorist attacks. According to the Russian security service, presumably seven thousand citizens of Russia and other former Soviet Union countries went to Syria and Iraq to fight against ISIS.
Western Europe is afraid of returning veterans. Russia, too. Citizens of Central Asian countries, such as Uzbekistan and Turkmenistan without a visa to come, for example, in Moscow or Saint Petersburg.
Last week, Putin signaled that he supports US President Donald trump in his fight against ISIS and terrorism. This is one of the main priorities trump.
Putin said that trump is right, putting such a goal, and Russia is ready to cooperate with the us military and intelligence.
The explosion in Saint-Petersburg gave him an even more powerful argument for the creation of a joint Russian-American front against ISIS. And Putin is much more likely to get a positive response from the current occupant of the White house than his predecessor Barack Obama.
Comments
comments