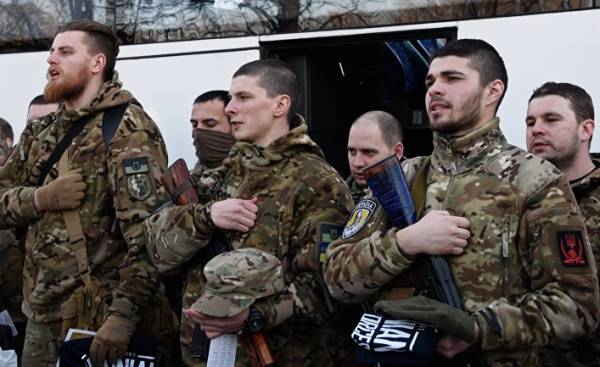 At the end of last year the Georgian servicemen fighting on the side of ATO forces in the "Georgian Legion" along with other units of the 54th brigade, repulsed the enemy one of the dominating heights on the arc Svetlodarsk.
This was stated by the commander of the assault detachment "Georgian Legion" Jaba, Lelashvili (Callsign "Maestro"), writes "Ukrainian truth".
According to him, it took three days to repel the enemy's height.
"The first day they were waiting for us, — says the Maestro. — Our first group started to move and had to call the fire itself. The second group had to go to the other side and take the fight. But they were waiting for us, fired at the places where we had to go through. And our first day out of them. The second day too.
When we saw that they were already relaxed, we suddenly they stormed this height. The battle lasted around 10-15 minutes, and they left the position".
The operation was a success, Lelashvili several times went behind enemy lines, gathering information. Once the Georgian scouts was so engrossed that he almost reached the enemy headquarters. Then the intelligence group of the Legionnaires had to fight.
"They saw us somewhere between their stronghold and headquarters, wanted to take us alive, says Lelashvili. — Shouted dill, surrender, drop your weapons. But give up we're not going to. First we killed the one who wanted us to give up. And then threw grenades in the bunkers there were eight. From the headquarters then for us kilometer pursued. But you see, before you I sit."
Comments
comments