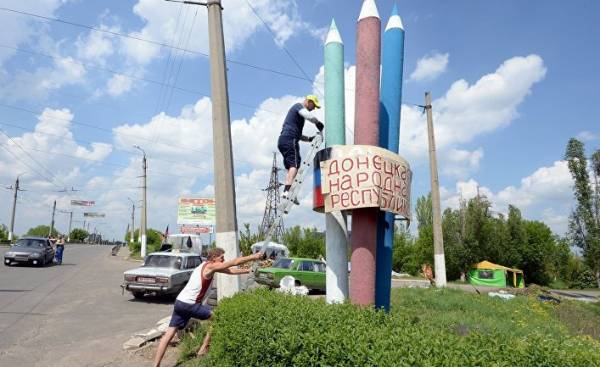 In the village of Grishino Pokrovsky district of the Donetsk region in the night of 7 July, 19-year-old Mykhailo Golubenko and his father were beaten up by the villagers. The reason for the beating became Pro-Ukrainian position of the guy, the website Vchasno.
According to the victim, his views he never hid in the village knew all about his Pro-Ukrainian positions and members of his family. But the guy never thought that this would be the reason for the fact that it attacked the villagers. It is noted that all of the offenders Golubenko was familiar to it, and despite the difference of opinion, have never had any problems.
"The night we were leaving a cafe when he met a company of four people, — says Mikhail Golubenko. They turned to me and said, "Well, are you a patriot?", to which I replied: "Glory to Ukraine!". After that, showered with insults, after which I went."
The guy managed to escape and call my dad. Victor Golubenko arrived immediately, but were unable even to understand the conflict, received a blow on the head.
"My husband and son were beaten in front of daughter, says Michael's mother, Oksana Golubenko. — Her husband was beaten in one corner, the son in another. The people that I live in a village and every day I greet… at one point all perception collapsed, they all knew her husband and son, and it did not stop with them to do that."
The villagers hit the head of the family from the back bat to the head, and then began to beat him down until he lost consciousness.
"The screams of the daughter's assistance no one answered. All she could do is to call my mother and tell her to call dad and brother killed. Already unconscious, the Victor dragged into the car. Surgeons in intercession CRB about an hour, "collected" his face in the maxillofacial Department. Now the man is in a serious condition", — is spoken in the message.
It is noted that the attacks of the villagers in hryshyne were. Before that, these same people have beaten the whole family, including an elderly woman. But due punishment so no one suffered.
As reported Корреспондент.net in may, guard Dmitry Yarosh was shot in the leg the taxi driver in the city of monay because of the refusal to say the phrase "Glory to Ukraine".
Comments
comments