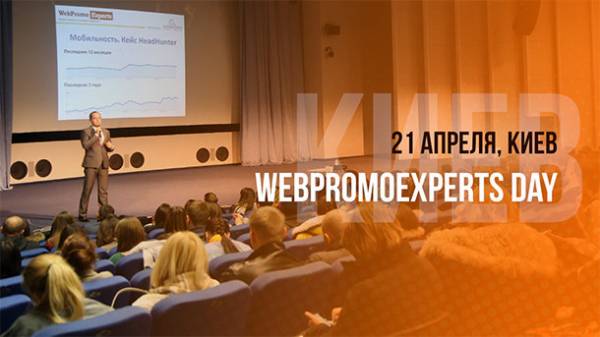 21 APR Academy of Internet marketing WebPromoExperts will hold a unique for Ukraine case conference "WebPromoExperts Day". Long can bump yourself, and you can learn the best expertise of Internet marketing and just use it in your business. Academy of Internet marketing WebPromoExperts has gathered the best of the best in the field of SMM, SEO, contextual advertising, content marketing, copywriting, usability and email marketing. Feature of the conference is paired statements "the Agency/service + Client", which will comprehensively reveal objectives, results and how they were achieved!
You are waiting for the reports of cases from UkrSibbank, TUI, Yandex, Coral Travel, JSC, Vkontakte, Templatemonster, VUSO, Prague, Sendpulse, METRO, Lenovo, Netpeak, LeBoutique, Luna and more!
The objective of this conference is to share the real experience of the best experts, practitioners in the field of Internet marketing. To tell about working the tools, tested in practice.
Who is it for?
For business owners — You have a website, but it does not bring sales, and You understand that treading water;

If You are starting a business from scratch or planning and don't know where to start;

For marketers — You know the promotion tools on the Internet, but not comprehensively understand how to use them and how to build a content strategy;

For managers online project — don't know how to achieve their sales figures.
You will receive:
24 of the report with practical examples, case studies and personal experiences;

Flow 2: "promotion Tools" and "Tools of communication";

8 hours that will save you months and money;

2 coffee breaks and lunch with the opportunity to interact and ask questions of the speakers;
gifts and bonuses from organizers and partners.
THE CONFERENCE PROGRAM
THREAD: promotion Tools
Traffic penny. Case promotion of UkrSibbank in organic search (Anton Voronyuk/Mila Doroshenko)
How to attract targeted traffic for seasonal business from the Advertising network. Case Coral Travel Ukraine (Taras Verucci/Tatiana Pomoranska)
How to withdraw 4000 queries in the TOP 1 of the organic search. The case of TUI Ukraine (Artem Hidin/Roman Kirakosyan)
Transformirovalsya do promo's business model. Case Digital farm (Yuri Markevich)
As strategic planning allows to improve the performance of contextual advertising. The case restaurant chain Sezam food and ShashlikYan (Poddubny, Oleg/Vladimir, Oganesyan)
The nuances of end-to-end Analytics and synchronization purposes Internet advertising with the business goals of the client. Case 4TV.com.ua (Sergey Shilimov/Gerus Sergey)
Content promotion for small businesses. Keith "The Polish Club" (Artem Pilipets/Raisa Aslanian)
Targeting Vkontakte, selling tickets for tournaments. Case StarLadder (Natalia Yakunina)
As to applications in the field of expert legal evaluations (BTI services, issuance of registration certificates, commissioning) of 1.96 from$. Case Lexstatus (Sergey Shcherbakov/Denisova Victoria)
How to analyze the effectiveness of training programs in complex product?Case Admixer. (Andrey Osipov/ Anna Bud)
Promotion in highly competitive niches-for example services Lunia (Oleg Ischemic)
Experience of attracting international customers. Templatemonster Case (David Brown)
STREAM: communications Instruments
TOP 3 communication channels with consumers in online marketing. Case WebPromoExperts (Olga Onikienko/Sergei Jalapa)
Increase the effectiveness of landing 2 times. The case of IC "VUSO" (Denis Kaplunov/ Dmitry Sokolov)
The virus in action: how to get 200 thousand women to think about health. Case Verum Clinic (Julia Nemcova/Elena Chernenko)
Lenovo. How to hear not only the haters. Case project "Inspired by people" (Stanislav Stoecki)
Communication content of the project. (Michael Fedchenko/Eugene Shpitko)
How to assemble 5,000 people to an event using Facebook? Case: restaurant "PRAGUE" (Sergey Vitchev)
Individual approach to 1 000 000 clients. Case METRO (Oksana Kulikova)
7 components of successful visual content how to choose the right image. Case Bebivita (Michael Hein/Dmitry Brain)
Event marketing: how to beat creative calendar? (Alexander Lynx)
How to make a profitable mobile app in e-commerce — case shopping club LeBoutique (Yuri Georgian/Alina Franchuk)
System emails for the online store. Case Funnycases (Alain Melon)
The participation fee is 4000 UAH.
For all readers a 10% discount on promo code: partners-10
The number of tickets is limited!
Organizers and sponsors: "WebPromoExperts", "WebPromo", "SendPulse", "SE Ranking".
To register for the conference!
Comments
comments