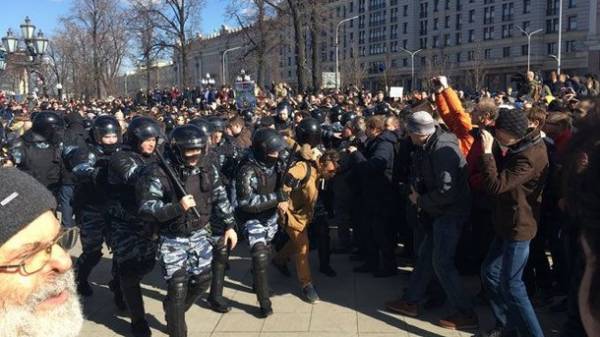 German politicians have renewed discussions about a possible boycott of the world Cup in Russia in 2018 in connection with the mass arrests of participants of anti-corruption protests in Moscow. About it reports DW.
A country which does not observe basic civil rights, in principle, should not hold international tournaments, said the Deputy head of fraction of party of Merkel in the Bundestag Michael Fuchs.
According to the politician, the unfortunate situation with human rights and security will cause many football fans to refrain from trips to Russia for the 2018 world Cup.
Boycott international sporting events should be a "rare exception", but Russia is not the first is moving in a dangerous direction, violating international law and human rights, and it is "completely unacceptable," said Michael Fuchs.
Since in December 2008 the international Federation of football associations (FIFA) decided to hold the world championship in Russia, the situation of civil society in this country has deteriorated sharply, said Tuesday, March 28, the Commissioner of the German government for cooperation with Russia Gernot Erler.
However, Erler recalled that the revision of the decision on holding the world championship in Russia is "the exclusive competence of FIFA".
Comments
comments