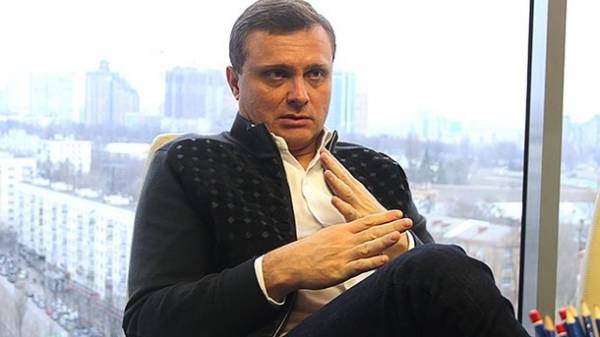 The Deputy Chairman of the faction "Opposition bloc" in the Verkhovna Rada Sergey Levochkin has declared 7 915 364 revenues for the year 2016. This is stated in the Declaration, – reported "Ukrainian news".
In particular, he declared 122 thousand hryvnias of a salary, 2,6 million hryvnias – percent of the deposits in the Bank "clearing house", 170 thousand hryvnia – ensuring Deputy activity, and 5 million hryvnia – the money borrowed from mother Eugenia Liovochkina.
It is noted that the loan is formed on the basis of requirements of Ukrainian law and conducted for the optimal use of family funds.
Cash, the MP declared that 475 thousand UAH 22 thousand and $ 16 thousand euros.
Accounts in "Clearing house", he posted $ 1.6 million and 833 of the hryvnia, the State Bank Amadna – 9 thousand dollars.
Levochkin owns an apartment with an area of 178,5 sq. m. and spent about 1 million hryvnia for the lease of office a total area of 682,6 sq. m in Kiev.
Also the property of MP Mercedes-Benz S600 (2010 edition) and two motorcycle – Boom Low Rider (2008) and Harley Devidson (2011).
In addition, in 2016 Levochkin has acquired Mercedes-Benz GLS 350d 4Matic 2016 release for 2.6 million.
Levochkin has declared the right to use residential house and land in France and apartments in Greece.
The right of use of apartments in Greece, the Deputy received in December 2014, the owner of the property company Karo Investment as a stockholder Levochkin.
The right to use the house has an area of 1 163 sq. m and 9 zemuchastok area of 387 sq. m in France Levochkin received in July 2012, the house belongs to the sister of the Deputy Yulia liovochkina.
Also Yulia liovochkina given to Sergiy Lyovochkin in the use of residential house (862 sq m) and 3 zemuchastka (2 700 sq. m, 800 sq m and 700 sq m) in Kozin Obukhov district, Kyiv region.
The Deputy has declared the collection of paintings and sculptures of the 47 items and the collection of icons of the 17 items, 4 watches (Vacheron Constantin, Breguet, IWC, F. P. Journe), Merkel shotgun caliber 12 mm, Jericho pistols and Sig-Sauer 9 mm caliber, 2 cardiotrainer 2 Technogym and LifeFitness strength training equipment.
He also declared that 20 thousand shares of the company Karo par value Investment for 130 480 hryvnia hryvnia each and 100 shares of "Ukrtelecom" with a nominal value of 0.25 hryvnias each.
Levochkin declared control of 7 offshore companies – Oskaro Investments and Valika Limited (Cyprus), Novembe Ventures, Highbond Global, Cosette Ventures, Megaforte (Seychelles) and Ovitilio Limited ( British virgin Islands).
The MP has registered a number of trademarks, including "New Ukraine" and "Fund of Sergey Levochkin".
Of expenses Levochkin declared UAH 2.3 million for air travel, 625 thousand UAH – on the purchase of ammonium nitrate to the Kiev-Pechersk Lavra, 1.6 million UAH – to the security and 4.8 million UAH on payment of taxes.
Comments
comments