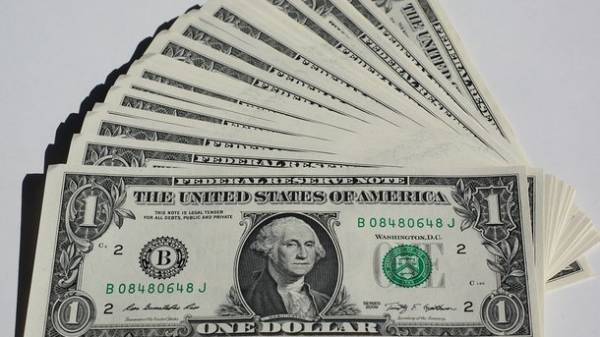 Today, April 4, the national Bank of Ukraine (NBU) has established such rates of major foreign currencies against the hryvnia:
1 US dollar UAH of 27.02;
1 Euro – 28,81 UAH;
10 Russian rubles – UAH 4,81.
Thus, the dollar, compared to yesterday's values have not changed, but remains above the psychological mark of 27 UAH/USD.
The Euro fell to seven cents. The Russian ruble is "lost" to the penny.
Monday, April 3, the dollar on the interbank currency market of Ukraine decreased by six cents in the sale and purchase. The auction ended with quotes from 26.99 – 27,03 UAH/USD. Today's auction has not started yet.
According to experts, the hryvnia on the cash market in April can be in the range of 27 – 29,5 UAH per USD, at the market clearing and 26.9 – 29 UAH. However, in the case of a negative scenario associated with reduced activity of farmers, with falling exports and commodity prices, the rate can go into the higher price range is 28.5 – 30.5 UAH per dollar.
"In the optimistic development that assumes favourable seasonal factors, the receipt of IMF tranche and the recovery of commodity prices, the cash rate will probably remain within the boundaries 26,9 – 27,5 USD per dollar" – the analyst ForexClub Andrew Shevchishin.
As reported yesterday, April 3, the international monetary Fund (IMF) who previously had a meeting of the Board of Directors on the allocation of Ukraine the next credit tranche of $ 1 billion, approved the allocation of money to Ukraine.
In 2017, the Finance Ministry of Ukraine expects the rate of 27,2 USD per dollar. The head of the NBU Valeria Gontareva considers budgeted-2017 the dollar is realistic. At the same time 2017-1018 year, according to calculations of the Ministry of economy, the dollar could jump up to 35 UAH;
For 2015 , the hryvnia depreciated by half, and for 2016 , the hryvnia depreciated by 12.9%, entering the TOP 3 of the weakest currencies of the CIS;
According to the "big Mac index" , the dollar in Ukraine has to cost a little more than 8 UAH;
The historical maximum the official rate of the dollar – 30.01 UAH/USD. – was made in Feb 2015.
Comments
comments