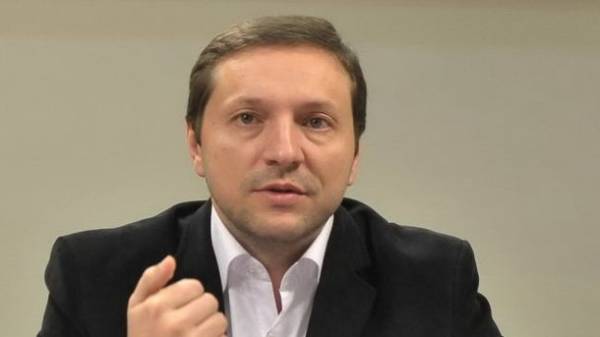 Minister of information policy of Ukraine Yuriy stets filed electronically for the year 2016, which declared 3 apartments, a house and 2 land plots in Kiev and the vehicle 3, transmits television channel "112 Ukraine".
According to e-Declaration, Stec owns land plots in Kiev area of 776 sq. m 549 sq m residential building in the Kiev area 217,7 sq. m, 3 apartments in Kiev with an area of 44,8 sq. m, 45.3 sq m 59.3 sq. m.
The Minister also has three cars: Lexus RX350 2008 model year, the Volkswagen EOS 2009 model year and Infiniti FX37 2011 release.
The Minister and his wife Yana Konotop are the ultimate beneficiaries of international charity Fund "My Ukraine", and also the spouse is the ultimate beneficiary of the public organization "the Institute of information security."
Stets has declared for 2016 salary in the amount of 149 305 thousand UAH, interest on the Deposit in "PrivatBank" in the amount of 11 thousand UAH 954, a pension in the amount of 128 thousand 880 UAH insurance payments 119 thousand 506 UAH.
His wife declared 75 423 thousand UAH salary at the main place of work in the "TV company "NBM", 21 thousand 977 UAH salaries part-time in LLC "5 channel TV", a percentage of the Deposit in "PrivatBank" – is 41 UAH and Deposit in the "International investment Bank" – UAH 284, royalties from Alexei Lejania in the amount of 124 thousand UAH 224.
The Minister also pointed out the informality in e-Declaration 203 286 thousand UAH on Deposit in "PrivatBank", 3 thousand dollars. 384 UAH "Diamantbank", YV, Konotop has on Deposit in "PrivatBank" 5 UAH, and in the "International investment Bank" – 333 815 thousand UAH, "Diamantbank" – 19 UAH.
In addition, the Minister, together with his wife, lent to third parties $50 million and EUR40 thousand.
Comments
comments