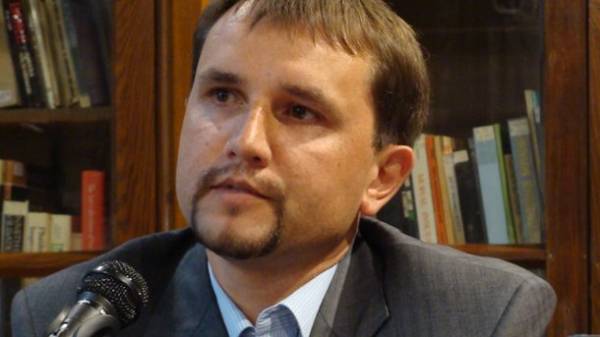 The head of the Ukrainian Institute of national memory Vladimir vyatrovich calls to solve the problem with the temporary placements of the Museum of the revolution of dignity "Ukrainian house" in Kiev. He stated this today, February 17, at a press conference in Kiev.
"The national Museum of the Revolution of dignity and the memorial to the heroes of Heavenly hundred was created by government decree at the end of 2015. In 2016, this memorial and Museum received the status of national and General Director, Igor poshyvaylo," – said vyatrovich.
The head of the Institute of naramata noted that this Museum is 30 people, who have neither room, nor working conditions and preservation of collected artifacts from the Maidan, which still are scattered in various museums.
Viatrovych pointed out that he began to be solved the issue of providing land for the construction of the Museum of the Maidan and the Memorial to the heroes of Heavenly hundred, but it still is only the beginning of a process of land acquisition decision of the Kyiv city state administration.
"Only this process will take more than a year. Then should be declared an international competition, which is also obviously going to last a certain time. Then will begin the fundraising and construction of the memorial. Therefore, in this issue we are talking about years or even possibly decades," – said the head of the Institute of naramata.
Viatrovych is convinced that all this time the Museum cannot exist in virtual space. He reminded that the Institute has repeatedly appealed to the presidential administration and the State administration that the temporary seat of the Museum of the Maidan may be the "Ukrainian house", but still this issue not resolved.
He noted that on the 4th and 5th floors in the exhibition areas of the "Ukrainian house" located the vault of the Museum of history of Kiev, who could be moved to some other warehouse and not necessarily at the center of the city, and the freed space could be used for at least partial placement of the Museum of Maidan and revolution of dignity.
Recall President of Ukraine Petro Poroshenko has awarded participants of revolution of Dignity and volunteers, with orders "For merits" of III degree "For courage" III degree order of Princess Olga of III degree.
Comments
comments