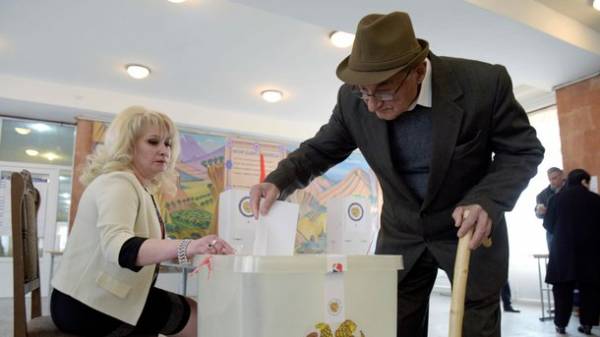 The ruling Republican party of Armenia held the lead in Sunday's parliamentary elections, according to the exit poll.
According organized by the Gallup International Association poll at the exit from polling stations, headed by Armenian President, the Republican party gaining 46% of the vote.
In second place is led by one of the largest businessmen, the head of the party "prosperous Armenia" Gagik Tsarukyan block "Tsarukyan" 25% of votes.
In third place is led by member of Parliament Nikol Pashinyan of the opposition bloc "EFC" ("Output") – 10%, followed by the Armenian revolutionary Federation "Dashnaktsutyun" – 5%.
Created by former defense Minister Seyran Ohanian, and former foreign Ministers Raffi Hovhannisyan and Vardan Oskanyan, the opposition bloc "Ohanyan-Raffi-Oskanyan" gaining 5%, led by ex-national security Council Secretary Arthur Baghdasaryan, the party "Armenian revival" – 5%.
The Communist party of Armenia is gaining 3%, led by ex-Prime Minister Hrant Bagratyan and Khachatur Kokobelyan Deputy of the opposition party Free Democrats – 3%.
For passage to Parliament parties need to overcome the 5 percent barrier, to blocks – 7%.
The survey was conducted at polling stations throughout Armenia, with participation of about 30 thousand voters.
Comments
comments